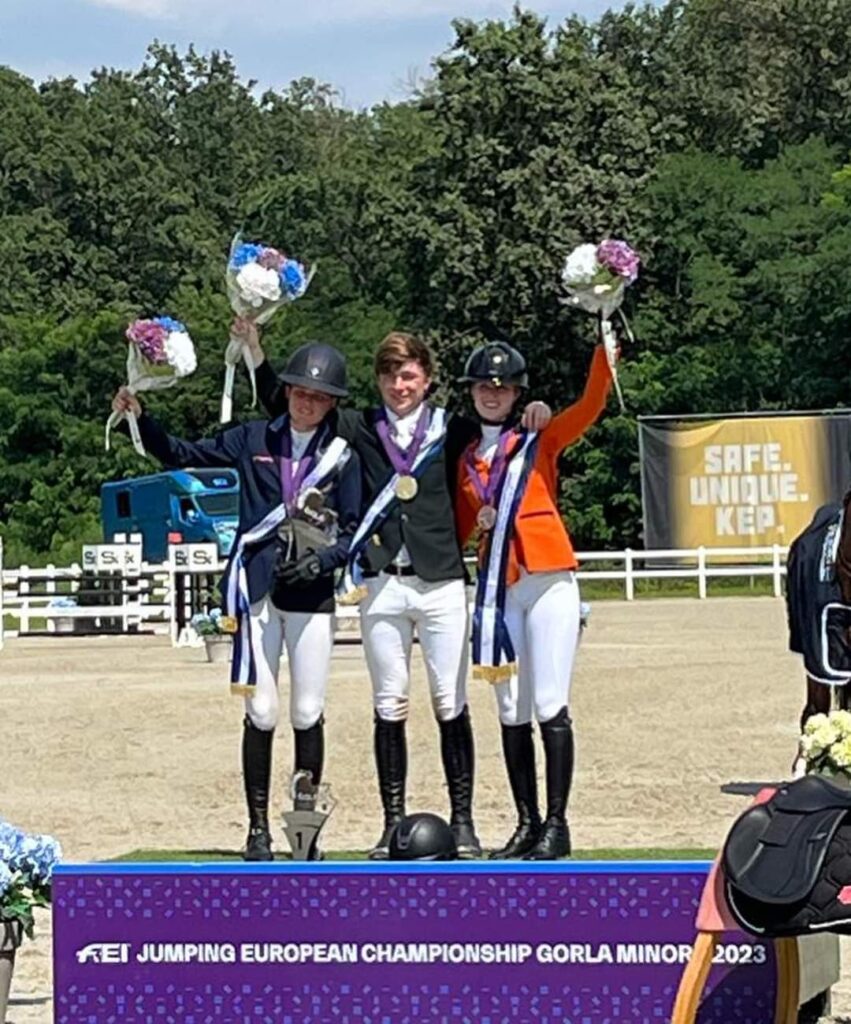 A remarkable weekend for Ireland at the 2023 FEI European Show Jumping Championships for Young Riders (U21), Juniors (U18) and Children On Horses (U14) in Gorla Minore, Italy has concluded, with Ireland making history by winning two team golds, an individual gold and an individual silver medal.
Ahead of the final day of competition, Irish teams managed, by James Kernan, had already won team gold in the Young Rider final and team gold in the Junior final.
The Young Rider (U21) individual final saw Kilkenny's Seamus Hughes-Kennedy and the Ennisnag Stud-bred ESI Rocky (ISH) confirm their position as the top Young Rider (U21) Show Jumping combination across Europe, by completing a stunning double gold medal win.

Seamus came into the individual final in the gold medal position and a flawless clear in the opening round on the final day put him within touching distance of another win. He could afford one fence down in the second and final round and when he crossed the line with just one fence down as last to jump, he was confirmed as the new Young Rider individual European champion.
Sweden's Beata Hermelin took home the silver medal while the bronze went to Dutch rider Skye Morssinkhof. Clare's Rhys Williams and Playboy JT Z finished in sixth place overall, just ahead of Tyrone's Niamh McEvoy and the Dorothea Wilson-bred Templepatrick Welcome Limmerick (ISH) in seventh, while Tipperary's Max Wachman and Quintini finished in 11th.

Speaking after collecting his second European gold medal in the space of 48 hours, Seamus Hughes Kennedy said:
"I'd like to thank everyone that has helped us, it has been a long road. A special thanks to Ennisnag Stud run by our uncles just down the road [Stoneyford, Co Kilkenny]. They bred the horse [ESI Rocky] and we bought him then as a young horse and have had him for the last six years – so it 's been good to have something to show for it. A double gold medal sounds good so I can't complain."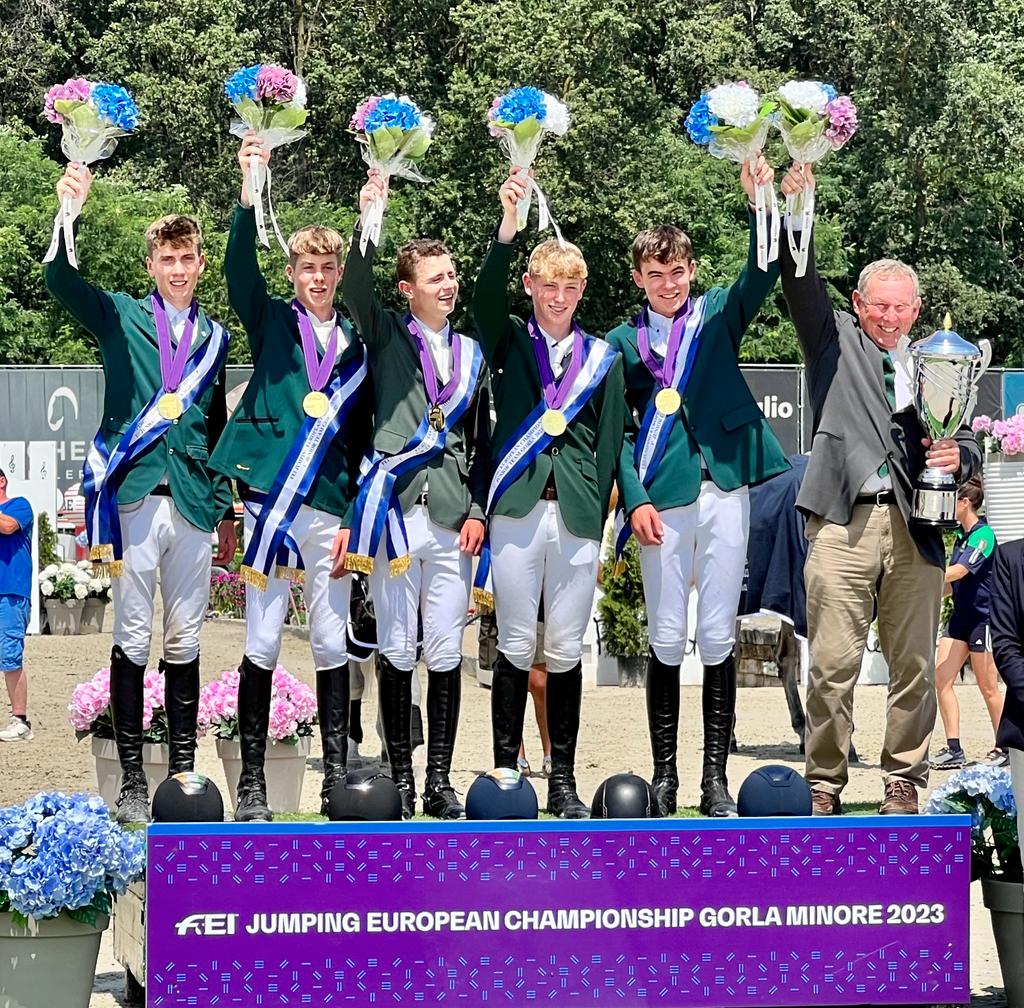 Photo: The Irish U18 (Junior) Show Jumping team of Coen Williams, Eoin Brennan, Tom Wachman, James Brennan, Timmy Brennan and James Kernan (team manager) stand on the podium after winning the gold medal at the FEI European Championships in Gorla Minore, Italy
The Junior (18) European final was also saw Irish success, with Tipperary's Tom Wachman and Cathalina S taking individual silver to add to the team gold they had already won. Wachman produced two clear rounds on the final day to climb up the leaderboard to finish just 1.82 penalties behind Anastasia Nielsen who took the gold medal for Monaco Kilkenny's Eoin Brennan finished in sixth place with Eskola M, while Clare's Coen Williams and Conthanja finished eighth.
The result left Ireland as the dominant nation of the championships, having won Young Rider team gold, Young Rider individual gold, Junior team gold, and Junior individual silver at the 2023 European Championships.
Alison Corbally, Director General of the Irish Horse Board said:
"Many congratulations to Seamus, his parents Clare Hughes and Melvyn Kennedy and to Ennisnag Stud, the breeders of ESI Rocky (ISH) on a fantastic performance to become double Young Rider European champions. It was another wonderful result for all our horses and riders to finish with four Irish riders in the top 11 at a European Championships Young Rider individual final.
Many congratulations also to Tom Wachman on his Junior individual silver medal to add to his team gold medal. This has been an amazing European Championships for Irish horses and riders and follows the incredible work done by breeders, owners, riders, coaches and parents which resulted in an amazing overall medal haul."
Photo – The Irish Young Rider (U21) team of Max Wachman, Rhys Williams, Seamus Hughes Kennedy, Niamh McEvoy, Ciaran Nallon and team manager James Kernan stand on the podium after taking the gold medal at the FEI European Championships in Gorla Minore, Italy.
BREEDING
ESI Rocky (ISH) gelding by Stakkato Gold (HANN) out of Clonaslea (BWP) by For Pleasure (HANN) Breeder: Ennisnag Stud owned by Clare Hughes ridden by Seamus Hughes-Kennedy.
Templepatrick Welcome Limmerick (ISH) – 2010 mare by Limmerick (HOLST) out of Go Luckey (ISH) by Lux Z (HANN). Breeder: Dorothea Wilson. Owner: Robin Bingham. Rider: Niamh McEvoy (IRL).
MHS Im The One (ISH) – 2014 gelding by Lancelot (KWPN) out of Cavalier Kells Lady (ISH) by Cavalier Royale (HOLST). Breeder: Thomas Brennan. Owner: Sinead Byrne. Rider: James Brennan (IRL).