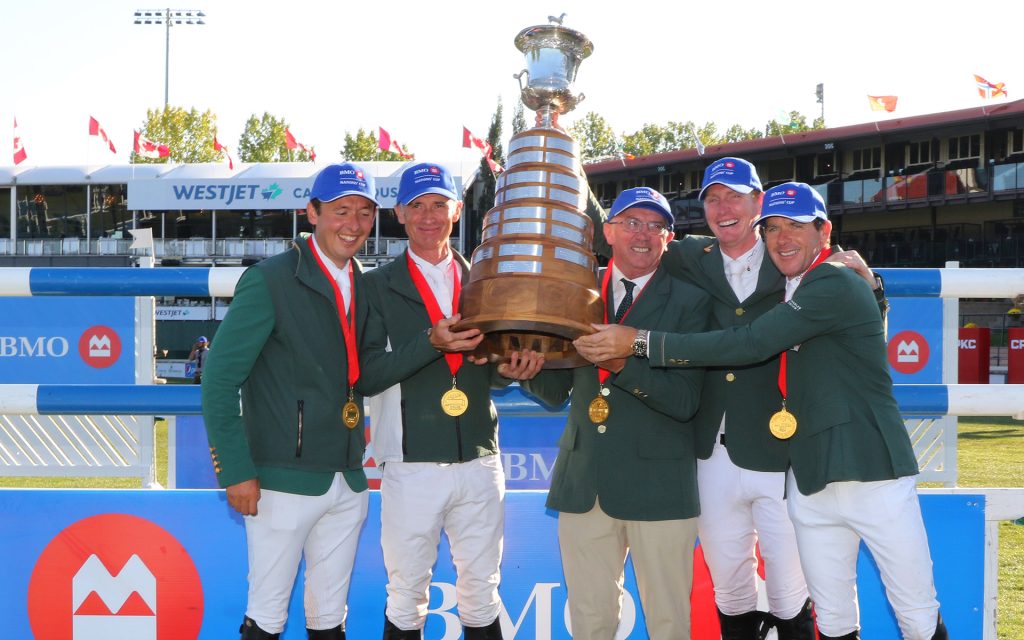 Photo: (l-r) Bertram Allen, Denis Lynch, Michael Blake, Daniel Coyle and Conor Swail hold the trophy aloft after victory in the BMO Nations Cup at Spruce Meadows in Canada
A commanding performance from the Irish Show Jumping team on Saturday saw them clinch victory in the five-star BMO Nations Cup at Spruce Meadows in Canada, with the Irish-bred gelding Pacino Amiro (ISH) playing a key role when jumping double clear with Wexford's Bertram Allen.
Derry's Daniel Coyle had just a time fault in the opening round with Legacy before jumping clear second time out, while Tipperary's Denis Lynch was clear in round one and finished with four faults in round two with Brooklyn Heights. Conor Swail was the discard score in the opening round with Calciet EB Z and didn't need to jump second time out.
Managed by Michael Blake, Ireland would finish on a final score of just 5 faults to take their first Nations Cup win at Spruce Meadows since 2001. Ireland finished just ahead of Germany in runner-up spot on six faults. The home team from Canada finished third ahead of Britain in fourth, Belgium in fifth, USA in sixth, while defending champions Sweden finished seventh.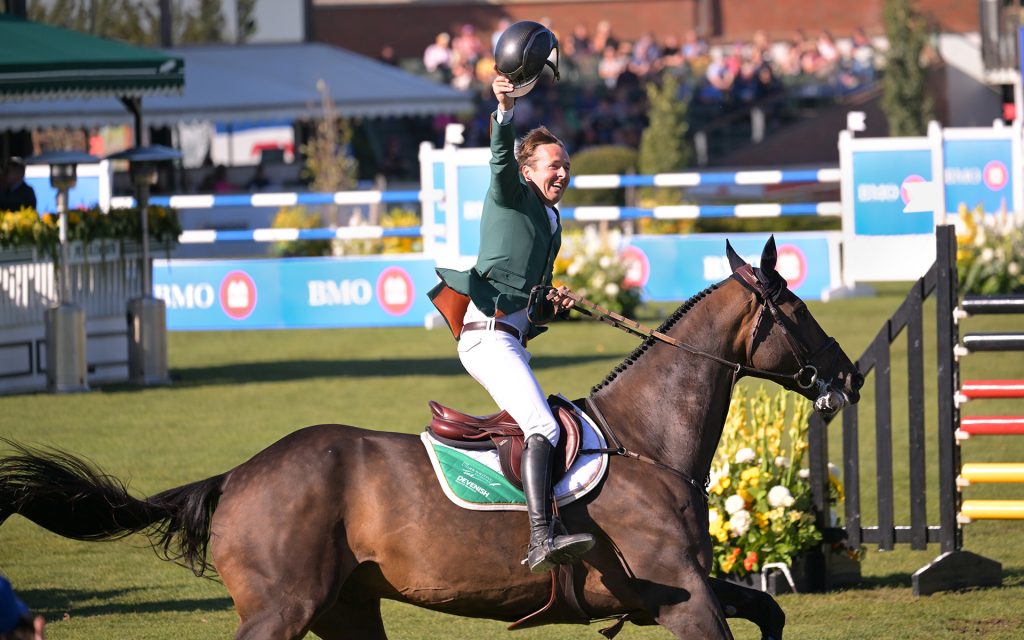 Following his double clear round with the Simon Scott-bred Pacino Amiro (ISH), Bertram Allen (pictured above) spoke about what is his first visit to Spruce Meadows.
"I've never been here (Spruce Meadows) and I don't think there's too many big shows that I've haven't been to in the last ten years, at least once. And so it's, you know, it's a magical place here. I always wanted to come, but just from the championship or Dublin or the type of horse I had, I could never make it. So I made a plan this year to really set it as a goal, and yeah, it's fantastic. The feeling from Tuesday when I arrived to the whole thing around how big it is, how fast it is, the the history around the place and then yeah, then when you go through the clock tower into the main ring it's even more special. So it's really, really nice to be here."
BREEDING
Pacino Amiro (ISH) – 2012 gelding by Pacino (BWP) out of Carnone Dancing Queen (ISH) by NC Amiro (AES). Breeder: Simon Scott, Co. Donegal. Owner: Aiden McGrory. Rider: Bertram Allen (IRL).