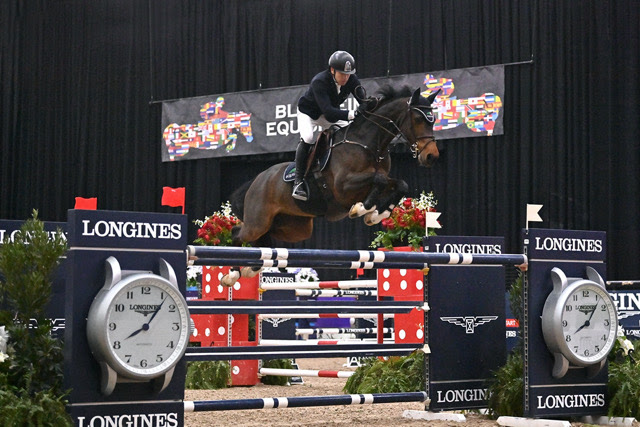 Irish domination of the FEI World Cup season on both sides of the Atlantic continued in the early hours of this morning, after Co Down's Conor Swail and the 16-year-old gelding Count Me In proved unbeatable in the Longines FEI Jumping World Cup North American League fifth leg in Las Vegas (USA).
The duo crossed the jump-off finish line in 38.28 seconds. Swail's student Vanessa Mannix (CAN) produced the only other double-clear effort to finish second with Lehar (39.49), while Jill Humphrey (USA) finished third with Chromatic BF (4/39.18).
"I'm lucky that Crosby [Count Me In] is very quick. Regardless, he is very careful. I thought I would just stick to the plan and have a nice, tidy round, and it worked out very well for me, " a delighted Swail commented after his win.
Six of the 28 starters made it into the jump-off and each of the first three combinations to jump off had fences down, including defending champions Lillie Keenan (USA) and Agana van het Gerendal Z, before Swail produced what proved the winning round when third to go against the clock.
Swail shared his strategy with his student of more than 15 years, Vanessa Mannix. A great effort saw her finish second after finishing fourth a week ago in Toronto (CAN) with Carmela Z. Mannix has been training with Swail and James Chawke (IRL) since 2007.
"We're very good friends. Vanessa has been riding great [on the North American League] for a number of years now," Swail said. "She's got a nice string of horses at the moment, and it's fantastic to see her on the podium as well."
But Swail gushed most about his equine partner, Count Me In, who has given him some of his career's most memorable milestones. Earlier in 2023, Swail felt his partner's confidence wasn't at its strongest, but the 16-year-old gelding is now having an exciting resurgence.
"This year has been a little up-and-down for him. Then we went through a little period where he wasn't comfortable jumping the bigger fences, so we took a step back," Swail said. "[Tonight], he felt as good as he ever has, so I'm really delighted.
"The horse owes me nothing. I think he's the best horse I've ever ridden. He brought me to the World Cup Finals. I won at Dublin (IRL). He's brought me incredible days and basically brought me to the top 10 in the world. If he didn't want to jump anymore, that's totally fine with me. But thankfully he's feeling really good again."
Irish Horse Board Director General Alison Corbally said:
"Irish horses and riders have been in superb form across the World Cup qualifiers so far in 2023, with Sligo's Richard Howley scoring a double of wins in Europe, Robert Blanchette winning the opening North American leg in Sacramento (USA), while Shane Sweetnam scored his first ever World Cup win earlier this month in Kentucky (USA) with the Irish bred James Kann Cruz (ISH). Many congratulations to Conor Swail on his latest win in Las Vegas. Count Me In has been such a brilliant horse for Conor over many years and it's fantastic to see him still at the top of his game at 16-years-old."
Swail's win catapulted him to second on the North American League standings with 30 points. Daniel Bluman (ISR) leads the standings with 43 points, while Mannix sits third (30 points).
The North American League continues in Fort Worth (USA) on 16 December 2023.