An outstanding performance from Irish horses and Irish breeders at the world famous five-star Badminton International Horse Trials in the UK, saw four of the top 10 finishers come from horses bred in Ireland, including three of the top five.
It was yet another hugely impressive result on the world stage from Tokyo Olympics team gold medal winner Ballaghmor Class (ISH), bred in Co Limerick by the late Noel Hickey. Britain's Oliver Townend partnered the evergreen 16-year-old Ballaghmor Class (ISH) to a superb runner-up finish, completing the demanding Badminton three days of action just behind fellow British rider Rosalind Canter who took victory with Lordships Graffalo.
Speaking afterwards, Townend could not praise his Irish-bred partner enough,
He's unreal, very reliable. I trust him 100% and I think he trusts me 100%. You can't make a horse do what he's just done, I can't tell you how proud of him, and the team, I am. He really helped me out coming out of the Quarry – those good horses dig you out. Life wouldn't be half as much fun without him, he really is part of the family.
Austin O'Connor became the first Irish rider in 40 years to finish on the podium at Badminton when he claimed a brilliant third place finish with Colorado Blue, who was bred at Mellon Stud in Co Limerick by Kate Jarvey.
The horse was amazing, he's the real deal", said O'Connor. "He's never been in this ground but he is full of blood and class; it's the hardest he's had to try round a five-star to date. I've got a great team at home and they've kept him very fit. He's one of the best horses in the world and I'm a lot older than I look and have ridden a lot of cross-country courses in the wet before.
Capels Hollow Drift (ISH) was the third Irish-bred horse to finish in the top five for Co Clare breeder Jeanette Glynn when ridden to a fifth place finish by Tom Jackson (GBR).
The Traditional Irish Sport Horse Majas Hope, bred in Co Kilkenny by Jack Murphy and ridden by Pippa Funnell (GBR), made it four Irish bred horses in the 2023 Badminton top 10, while Oughterard Cooley bred by Gerard Lynch, Away Cruising bred by Eamon O'Flaherty and Possible Mission bred by Richard Barron Jnr all finished inside the top 20.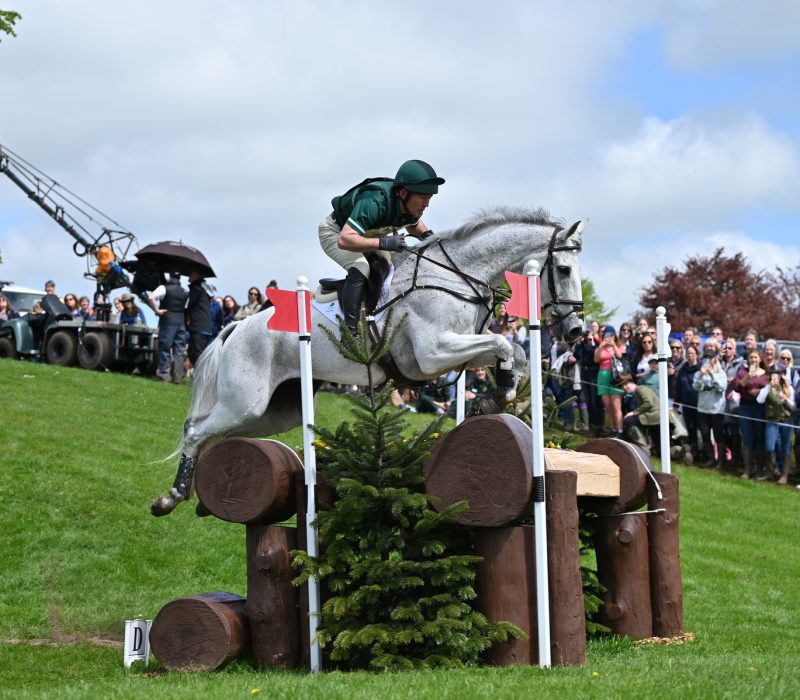 Image: Colorado Blue
BREEDING
2nd Ballaghmor Class (ISH) – 2007 gelding Courage II (HOLST) out of Kilderry Place (ISH). Breeder: Noel Hickey, Limerick. Owners: Karyn Shuter, Angela Hislop & Val Ryan. Rider: Oliver Townend (GBR)
3rd Colorado Blue (SHBGB) – 2009 gelding by Jaguar Mail (SF) out of Rock Me Baby (AES), by Rock King (WNTR). Breeder: Mellon Stud / Kate Jarvey, Limerick. Owners: Austin O'Connor & The Salty Syndicate. Rider: Austin O'Connor (IRL)
5th Capels Hollow Drift (ISH) – 2011 gelding by Shannondale Sarco St Ghyvan (BEWB) out of Lucky Crest (ISH)[TIH] by Lucky Gift (TB). Breeder: Jeanette Glynn, Co Clare. Rider: Tom Jackson (GBR)
10th Majas Hope (ISH)[TIH] – 2007 gelding by Porter Rhodes (TB) out of Brown Sue (ISH)[TIH] by Flagmount King (ID). Breeder: Jack Murphy, Co Kilkenny. Rider: Pippa Funnell (GBR)
12th Oughterard Cooley (ISH)[TIH] [was Oughterard Sky Boy] – 2010 gelding by Puissance (ISH)[TIH] out of Oughterard Sky Cruise (ISH)[TIH] by Cruising (ISH)[TIH]. Breeder: Gerard Lynch, Co Clare. Rider: Wills Oakden (GBR) 70.6

16th Away Cruising (ISH) – 2007 gelding by Cruise On (ISH)[TIH] out of Parklands Princess [ISH] by Able Albert (TB). Breeder: Eamon O'Flaherty, Co Kildare. Rider: Harry Meade (GBR) 80.2

19th Possible Mission (ISH) – 2007 gelding by Temple Clover (ISH)[TIH] out of Bahrain Supreme (ISH) by Ricardo Z (ZANG). Breeder: Richard Barron Jnr, Co Waterford. Rider: Tom Rowland (GBR) 88.7

21st Blackthorn Cruise (ISH) – 2009 gelding by Vancouver (KWPN) out of MS Cruise (ISH)[TIH] by Cruising (ISH)[TIH]. Breeder: David Carey, Co Mayo. Rider: Daniel Jocelyn (NZL) 91.5