An Irish team that included two Irish-bred horses made history at the famous Piazza Di Sienna in Rome on Friday (May 26th 2023), when they claimed victory in the Italian Nations Cup of Rome for the very first time.
Rome had remained one of the few Nations Cup trophies that had eluded the Irish as far back as it's very first running in 1926. But that all came to an end after a thrilling competition that saw the Irish quartet of Michael Pender with HHS Calais (ISH), Jack Ryan with the Marguerite Ryan-bred BBS McGregor (ISH), Michael G Duffy with Clitschko 17 and Denis Lynch with Vistogrand, take victory after a tense jump-off against the home team from Italy.
Ireland and Italy had finished two rounds of competition on eight faults apiece and team manager Michael Blake selected 23-year-old Mikey Pender and The Irish Sport Horse HHS Calais, bred in Kilkenny by the Ita Brennan, as the pairing to represent Ireland in the jump-off. Pender and the 12-year-old gelding jumped a perfect clear to put pressure on the Italians and when Francesca Ciriesi and Cape Coral picked up four faults at the second last fence, Ireland were crowned champions. Italy finished as runners-up, while France finished third of the 10 teams that competed.
Full results https://online.equipe.com/en/class_sections/819383
BREEDING
HHS Calais (ISH) – 2011 gelding by Cavalier Royale (HOLST) out of MHS OBOS Cruise (ISH) by OBOS Quality (OLD). Breeder: Ita Brennan, Co. Kilkenny. Owner: Bravo Hughes Ltd. Rider: Michael Pender (IRL).

BBS McGregor (ISH) – 2012 gelding by Cardento (HOLST) out of Random Chance (ISH) by Mark Twain (TB). Breeder and Owner: Marguerite Ryan, Co. Kilkenny. Rider: Jack Ryan (IRL).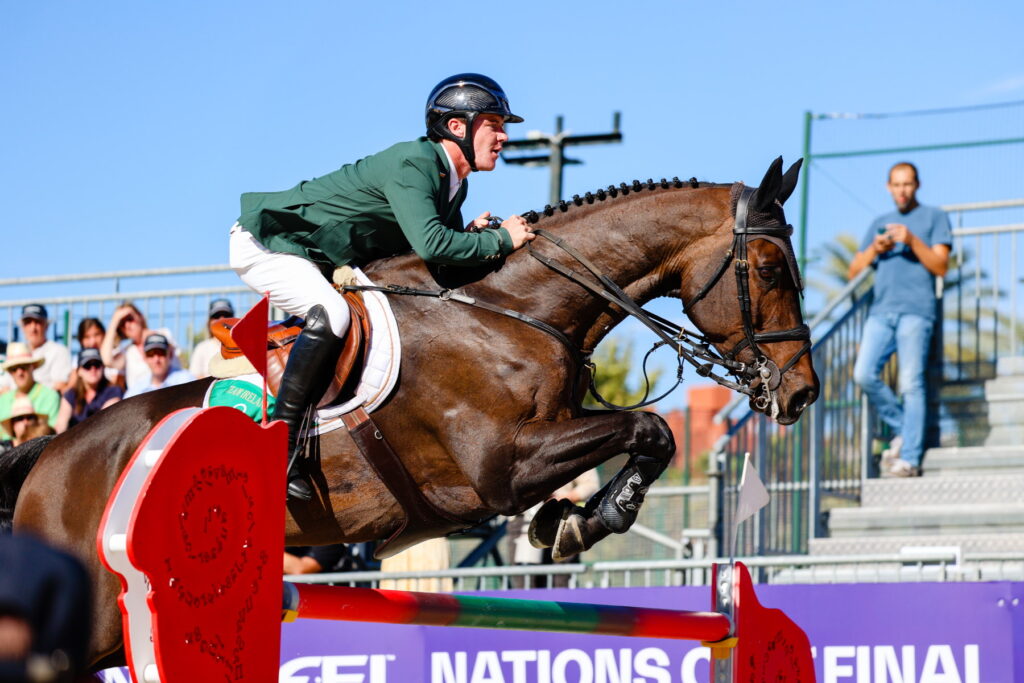 Image: HHS Calais (ISH), credit Melina Massias