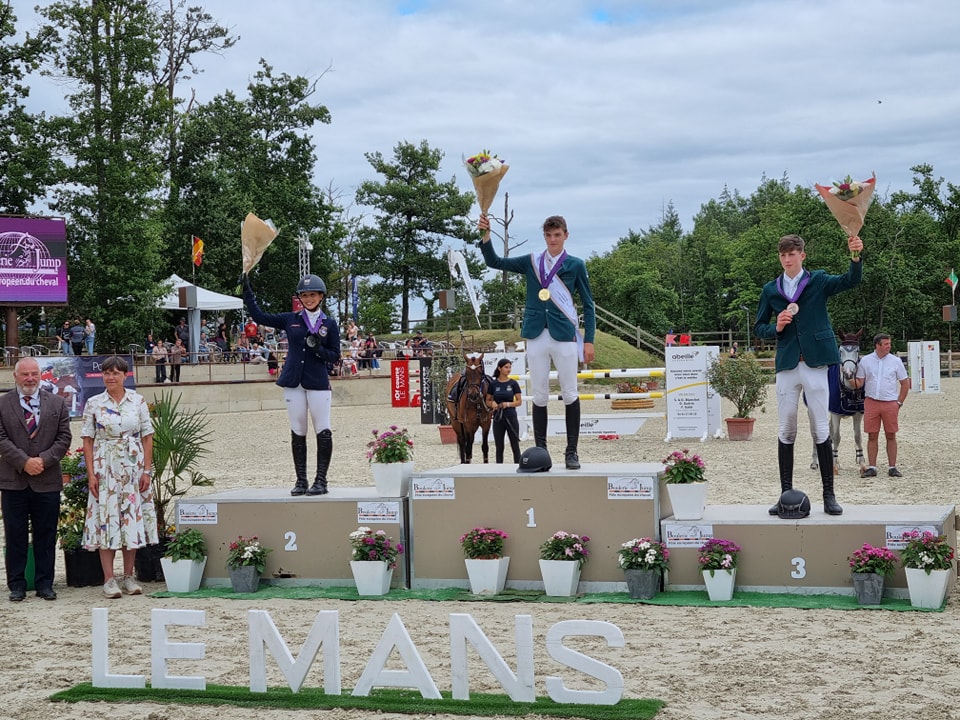 A remarkable run of results for Irish athletes at European Championship underage level has concluded today (Sunday), with Irish U16 (Pony) riders winning the individual gold and bronze medals at the FEI Jumping European Championships for Ponies in Le Mans, France.
Sligo's Paddy Reape riding Fernando, bred by Sean Judge, were the only combination to jump clear in all four rounds of the Championships to take the individual gold medal. Limerick's Kian Dore riding Sparkling Lackamore Joey went into a three-way jump-off for silver and bronze after finishing on four faults. Just one fence down against the clock for the Irish combination saw them take third place and the bronze medal. Westmeath's James Derwin riding Rincoola Babog (ISH), bred by the late Harold McGahern, and Kilkenny's Emily Moloney riding Lady Crown also finished inside the top five, sharing fifth place on an eight fault total. Kilkenny's Abbie Oakey riding Boutade Ste Hermelle finished in 14th. The result comes less than 48 hours after Ireland won the European Championship team gold medal in Show Jumping, while also on Sunday, the Irish Pony Eventing team won the European Bronze medal.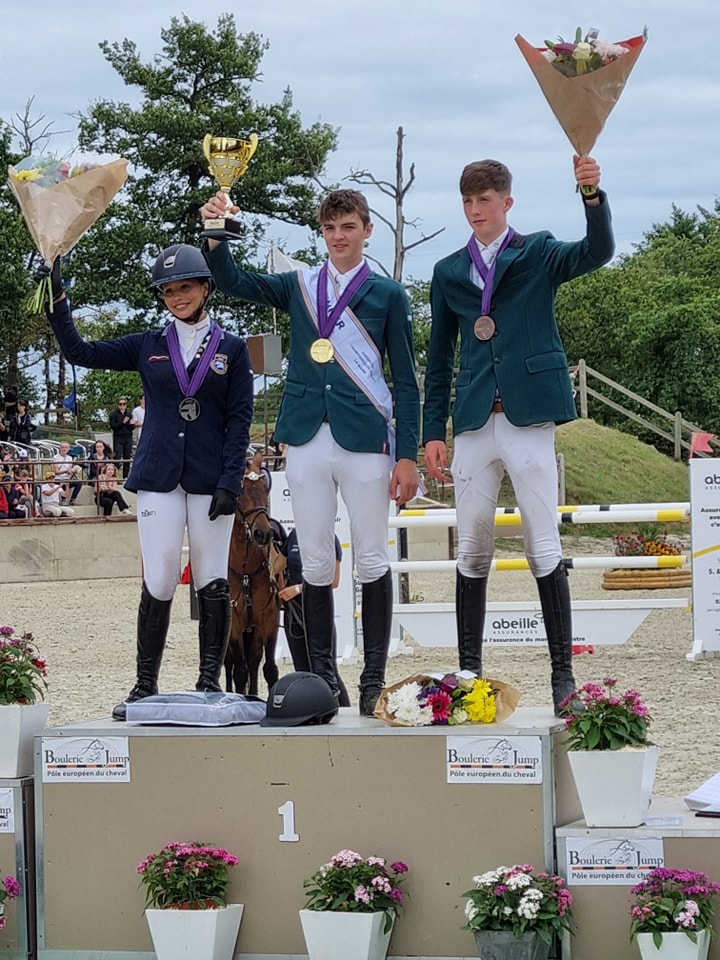 Irish Horse Board Director General Alison Corbally said:
"These results crown what has been a phenomenal couple of weeks for Irish riders and breeders at the very highest level in Europe. Many congratulations to Paddy Reape and Kian Dore on their medal wins today, and to the Irish Pony Eventing team of Carla Williamson, Molly O'Connor, Hannah Willis, Ciara O'Connor and Ben Connors, who took home the bronze medal. It was also notable how many of the ponies that competed for other nations at these Championships were bred in Ireland, and that is down to the many fantastic breeders and producers that we have in this country. Many congratulations to the Pony Show Jumping team manager Gary Marshall and Pony Eventing team manager Jane Kinsella on their medal wins and to all the parents, owners and coaches."
The results mean that in the last fortnight, Irish horses and riders have won European team gold in Show Jumping at U16 (Pony), U18 (Junior), U21 (Young Rider) level. Ireland has also won the U16 (Pony) and U21 Young Rider individual gold, along with U18 (Junior) individual silver and U16 (Pony) individual bronze, while the Irish (U16) Pony Eventing team also won team bronze.
Breeding:
Fernando (SIES) – 2010 gelding by Mr Pretender. Dam Castleside Topaz by Clonmany JJ. Breeder: Sean Judge. Owner: Jonathan Reape. Rider: Paddy Reape (IRL)
Rincoola Babog (ISH) – 2011 stallion by Luidam (KWPN) out of Rincoola Abu (ISH) by Cruising TIH. Breeder: Harold McGahern. Owner: Jim Derwin. Rider: James Derwin (IRL)