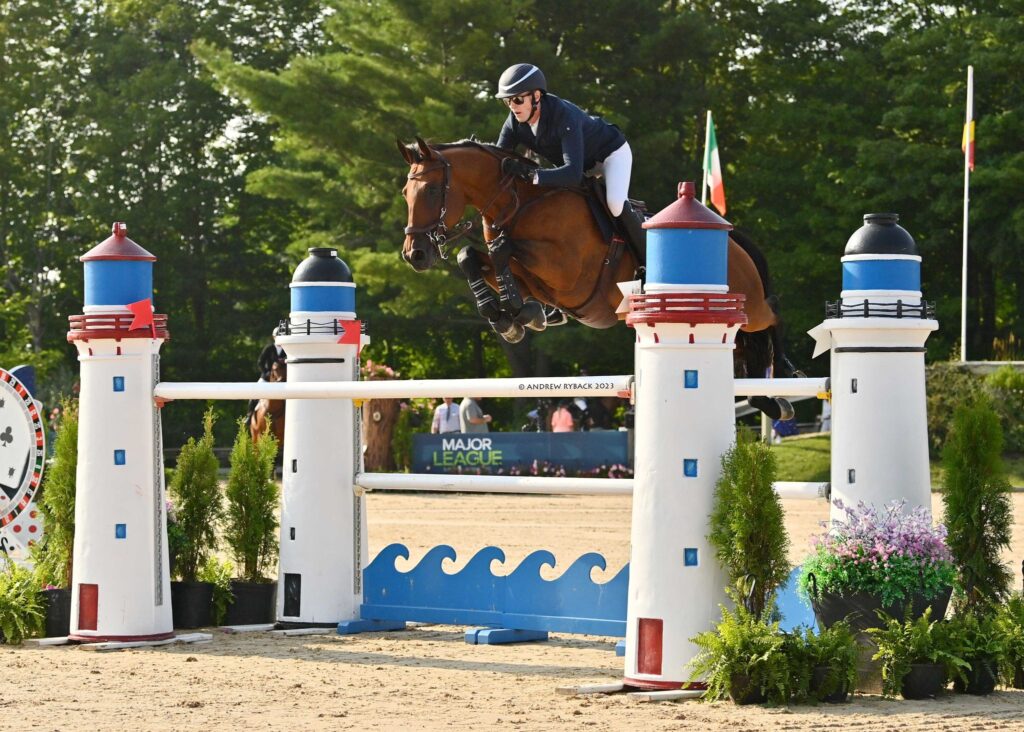 Andrew Bourns (IRL) & Sea Topblue. Photo: Andrew Ryback Photography
Galway's Andrew Bourns and the Irish-bred Sea Topblue (ISH), bred in Co Clare by James & John Meade, scored an impressive runner-up finish in last night's $414,300 B&D Builders five-star Grand Prix at Traverse City, Michigan in the USA.

Three of the five combinations that made it into the jump-off were from Ireland, with Offaly's Darragh Kenny finishing third with Hamrah Van Het Exelhof Z, while Sligo's Darragh Kerins finished fifth with Lissino. America's Karl Cook took victory with the only double clear of the competition aboard Kalinka Van't Zorgvliet.
Andrew Bourns was thrilled with Sea Topblue's second-place finish.
"This is probably one of his better results in his career," Bourns said. "He's won Grand Prix's up to the four-star level and has placed numerous times in the five-stars. I think I misjudged the double in the jump off; I'm not sure if I would have beaten Karl because he was coming after me, but I would've given him a better run for his money if I had just made a slightly better judgment on the double. It certainly wasn't Sea Topblue's fault today; he was out for the win."
Kenny echoed how excited he was by his horse's performance, knowing he has a winner for the future. "I'm very happy to be honest," he shared. "I knew going into the jump off that I didn't really have a chance to beat Karl. My horse is 9 years old; he's super green. He only just started the five-star level, and he's jumped clear in every five-star Grand Prix he's jumped in so far. He's a really special horse but he was no match for Karl's horse today, so I was happy with my week. All of my horses jumped great, and I'm really excited for this horse. I think next year he can be an incredible horse. He's so talented and keeps getting better every round."
BREEDING
Sea Topblue (ISH) – 2011 gelding by Chacco Blue (MECKL) out of Sea Top Lady (ISH) by Lux Z (HANN). Breeders: James & John Meade, Co. Clare. Owner: Deirdre Bourns. Rider: Andrew Bourns (IRL).