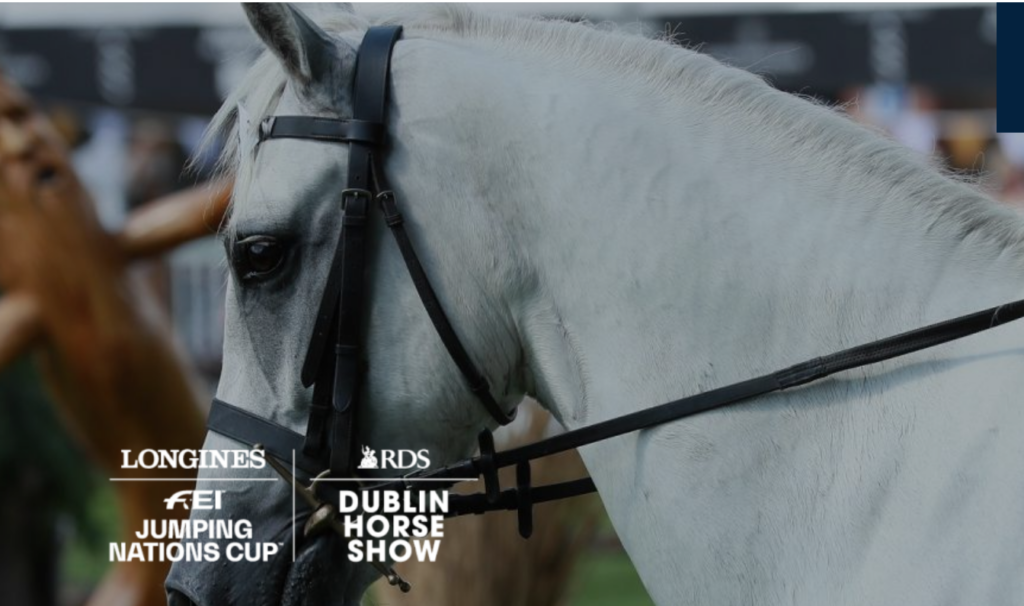 Day 1 of Dublin Horse Show 2023 started with a number of home-bred wins in the Irish Draught and Connemara performance hunter classes.

The first win in Ring 2 was in the APCOA-sponsored Irish Draught performance classes for four and five-year-olds and was recorded by Lismore-based Sean Looney with the five-year-old Benlowcross gelding Benlows Hero. Bred by Cahir owners Marian Ryan & Kieran Smith, the grey is by the Holycross son Benlowcross and is one of 10 recorded progeny of his Crannagh Hero-Golden Warrior dam Goleen Bay.
This was a second win in this Dublin championship for Looney who won for the same owners in 2019 with Stormy Diamond Lady and has produced their latest champion since he arrived in his yard as a three-year-old. "You can't win anywhere better," said a delighted Looney.
In the following class for older Irish Draughts, there was a queue of three prospective customers waiting outside the ring for Shanbally Catchphrase. Like Looney, his owners, Tom and Maria McNamara are real grassroots producers and this Craughwell father and daughter team have produced many good Irish-breds for customers on both sides of the Atlantic. Having previously won this class with Shanbally Blazer, they have produced this fellow since he was a two-year-old and as Tom is a master with the North Galway Hunt, his cross-country experience really stood to him over the Dublin track.

Shanbally Catchphrase is by Heigh Ho Dubh and the Drumhowan Stud veteran will be seen in tomorrow's Irish Draught stallion parade and Friday's class. Altnastar Bluebelle, Catchphrase's dam, is by Cappa Cochise out of the Sir Rivie-Blue Rajah dam Altnastar Altnastar Belle and was bred in Banagher, Co. Offaly by John Delahunt.

There was another Offaly connection in the first championship decided in Ring 1 at this year's show as the reserve riding horse champion Ballarin Rosebud was bred in Rathangan by owner-breeder Nicola Perrin. The traditional-bred will have a busy week as, now in foal to Radolin, she also lines out in Saturday morning's stinted mare class.

Another home-bred success story, she is by the Star Kingdom-sired Ballysax Hero and out of Seefin Rosewood, a Nash Me-Political Merger mare that the Perrins sadly lost last autumn due to colic.
In the first of another native Irish breed championship, for five to seven-year-old Connemara ponies, it was a coveted first-time win for Carlow producer Gloria Nolan. Again, it was another homebred, this time the seven-year-old Ardnehue Maxamillion, by Burning Daylight, a pony that competed against horses up to 1.35m in Germany. His dam April Thunder is by Robe Thunder, another noted performance line. The Nolans sell Connemaras to several countries including the U.K, Sweden and the USA.
In the second Connemara championship, it was the experienced Liscannor Tulira who won for his Kildare pilot Anna Nangle, just a month after the pair's CCIP2*-L class at Kilguilkey International. Bought back from the UK in February, where the 13-year-old's British Eventing record included wins at Barbury International and Cirencester Park, the all-rounder was bred in Liscannor, Co. Clare by Thomas O'Connor. He's the second Connemara owned by the family, alongside Blackwoodland Breeze. "We just love Connemaras," said Anna's mother Fiona.
"It doesn't get much better," said Jamie Smyth after he rode a second Dublin champion on the first day. His second tricolour, this time in the small hunter championship, was last September's Goresbridge buy Highview Overado, by Cavalier Land and out of a Jack of Diamonds- Prospect Pride dam Redinagh Black Jack.
The reserve champion was the pure-bred Irish Draught: Courtown Grandpa's Girl, bred in Co Wexford by Lorcan Allen and one of owner Melissa O'Connor Murphy's two blue ribbon prizewinners in the small hunter classes. In the championship, Courtown Grandpa's Girl, a four-year-old by Grandpa's Rebel out of a Grange Bouncer dam, second in Highview Overado's class, followed the winner home in the championship.
PERFORMANCE IRISH DRAUGHT
Four/five-year-olds:
Benlows Hero (ID) – 2018 gelding by Benlowcross (ID) out of Goleen Bay (ID) by Crannagh Hero (ID). Breeder: Marian Ryan & Kieran Smith, Co. Tipperary. Owner: Breeders. Rider: Sean Looney.
Six-year-old and over:
Shanbally Catchphrase (ID) – 2017 gelding by Heigh Ho Dubh (ID) out of Altnastar Bluebelle (ID) by Cappa Cochise. Breeder: John Delahunt, Co. Offaly. Owner: Tom McNamara. Rider: Maria McNamara.
RIDING HORSE CHAMPIONSHIP
Reserve: Ballarin Rosebud (ISH) (TIH) – 2018 mare by Ballysax Hero (ID) out of Seefin Rosewood (ISH) by Nash Me (TB). Breeder: Nicola Perrin, Co. Kildare. Owner/Rider: Breeder.
CONNEMARA HUNTER CHAMPIONSHIP
Five to seven-year-olds:
Ardnehue Maxamillion (CP) – 2016 gelding by Burning Daylight (CP) out of April Thunder (CP) by Robe Thunder (CP). Breeder: Gloria Nolan, Co. Carlow. Owner/Rider: Breeder.
Eight to 15-year-olds:
Liscannor Tulira (CP) – 2010 gelding by Tulira Robuck (CP) out of Liscannor Lass (CP) by Oisin. Breeder: Thomas O'Connor, Co. Clare. Owner: Fiona Nangle. Rider: Anna Nangle.
SMALL HUNTER CHAMPIONSHIP
Champion: Highview Overado (ISH) – 2019 gelding by Cavalier Land (ISH) out of Redinagh Black Jack (ISH), by Jack of Diamonds (SWB). Breeder: Seamus Leacy Jnr. Owner: Ryan Anderson. Rider: Jamie Smyth.
Reserve: Courtown Grandpa's Girl (ID) – 2019 mare by Grandpa's Rebel (ID) – Courtown Millie (ID) by Grange Bouncer (ID). Breeder: Lorcan Allen. Rider: Ivan Ryan.