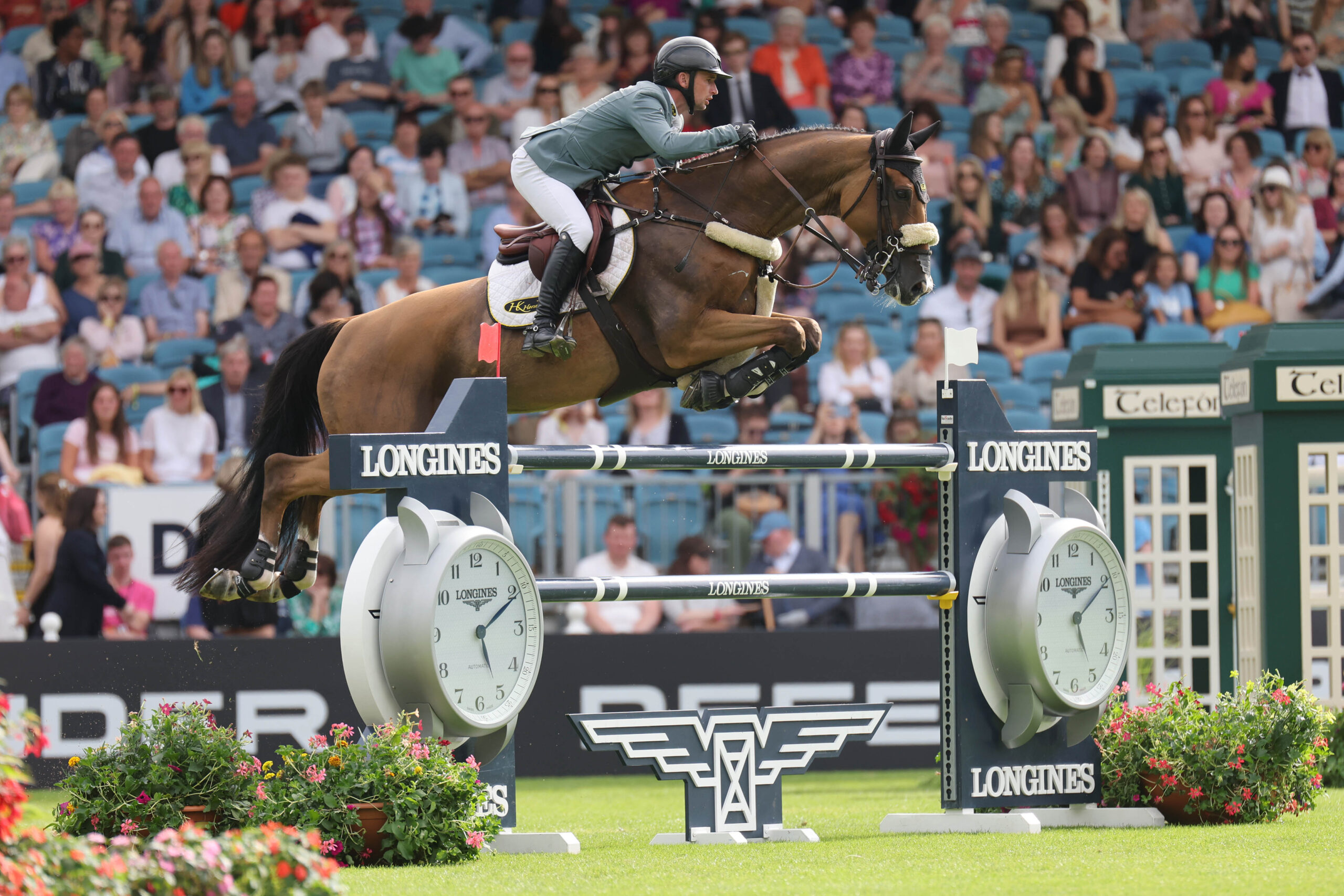 Irish domination of the international classes at the Dublin Horse Show continued today (Thursday), with both of the international competitions in the main arena at the RDS being won by Irish riders.
Sligo's Richard Howley and the 12-year-old gelding Consulent de Prelet Z claimed the winners prize in the feature Cashel Palace Hotel Stakes 1m60 jump-off. Eight horses and riders made it into the second round where Howley's clear in 34.52 proved unbeatable. Wexford's Harry Allen and Calculatus finished second in 36.85 while the only other double clear came from Greek rider Ioli Mytilineou and Levis de Muze in 38.00. Tipperary's Denis Lynch and Vistogrand finished fourth with the fastest four-fault round of the jump-off, while Cork's Shane Sweetnam and Out of the Blue SCF finished fifth.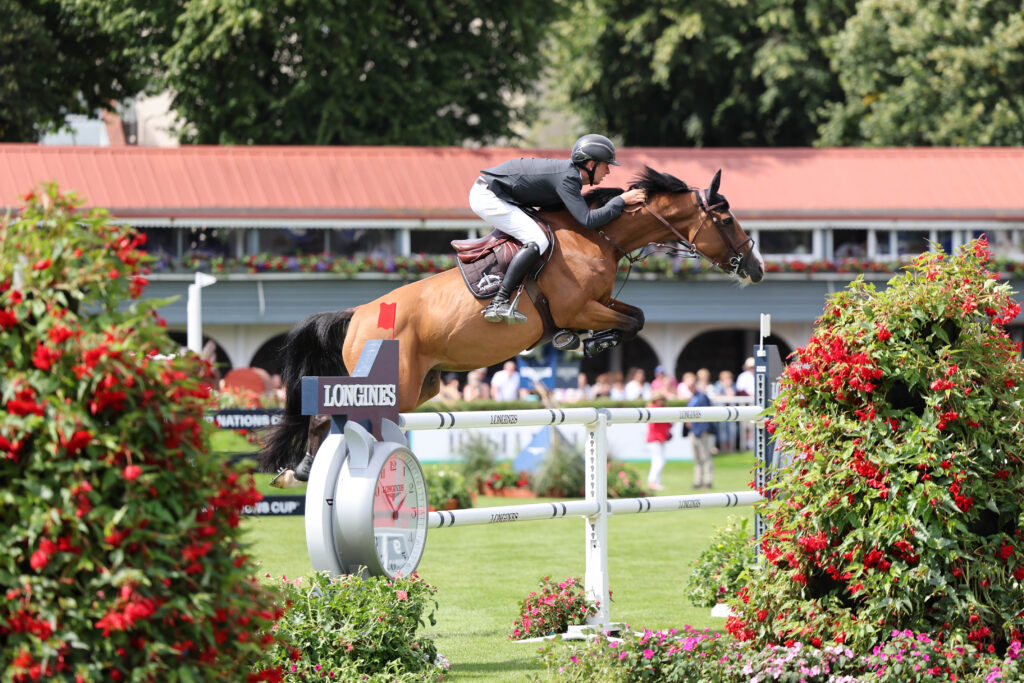 In the earlier Speed Derby, Wexford's Bertram Allen thrilled the home crowd with a super-fast round to take victory with the 9-year-old mare Carrera Denfer. Allen crossed the line clear in 81.95 seconds while Tipperary's Shane Breen and Z7 Ipswich finished as runners-up in 83.67. Kilkenny's Jack Ryan and the Irish-bred Cavalier Teaca (ISH), bred by Barry Kiernan, finished third. Kildare's Mickey Pender and HHS Vancouver (ISH) bred by Marion Hughes finished fourth, just ahead of Swiss rider Martin Fuchs in fifth with Viper Z.
Young Horses 
The 5-year-old horse qualifier was won by Kilkenny's Ger O'Neill and Ballyshan B F Super Hero (ISH), bred by Gary Doherty. Nicholas Connors slotted into second place with Jump The Gun (WSI) while Mikey Pender finished third with Madgeslane Luidam (ISH). 
Event Horse
The winners prize in the Junior / Young Rider Event Horse competition went to Chloe Fagan and Deravarra Rise N Shine (ISH) on a score of 85.5. Second place went to Godfrey Gibbons and Ds Conn Boy (ISH) who scored 80.3 while Sadie McMahon and Creevagh Hilfiger (ISH) finished third with a score of 78.7.
The 4-year-old Young Event Horse class saw Caitie Slater with Belline Special Lady (ISH) take victory ahead of David Furlong and Thistletown Delboy in second. Third place went to Alyssa O'Neill and Ds Are You Tom (ISH).
Noel Dunne and Kief Rhapsody Of Belline (ISH) came out on top in the 5-year-old Young Event Horse class. Alyssa O'Neill was back in the prizes when finishing second with Ds Candescent (ISH) while third place was shared between Steven Smith and Greenhall Gold Dust (ISH) and Chloe Fagan riding Gervada (TB).
Ponies
The second 138cm pony qualifier of the week was won by Cork's Juliette Mcintosh and Navaho Beauty (ISH). Juliet Quirke and Blackwood Killamaster (ISH) finished second ahead of Ruben Foley and Mayfly Green Peter (CP) in third.
Kilkenny's Ava O'Neill and He's A Touch Of Magic secured victory in the second 128 pony qualifier. Georgia De Bromhead, and The Silver Legend took runner-up spot ahead of Ella Rush and Bellismo Spartacus in third.
The 128cm 6 & 7 Year-Old Ponies saw Isabelle Mangan from Co Clare riding Killorglin Boy take victory ahead of Chloe Clarke and Gwennicks Hopestown Flyer in second, while third place went to Cassie Rae Curran and Cc Cheyene. The 148 pony qualifier saw victory go to James Derwin and Rincoola Babog (ISH).
Aga Khan
Friday as ever is Aga Khan day at the RDS, with Ireland hoping to retain the trophy that they won when taking victory in the Longines FEI Nations Cup of Ireland last year. Ireland have been drawn fifth to jump of the eight teams that will do battle, with 2018 Aga Khan winners Mexico the pathfinders.
Irish team manager Michael Blake has named his Aga Khan team, which included two Irish-bred horses, with Ireland set to line-out as follows:
Galway's Michael Duffy riding Cinca 3, owned by Hibernian Sport Horses Ltd.
Kildare's Michael Pender riding HHS Calais (ISH) , owned by Bravo Hughes Ltd and bred by Ita Brennan
Meath's Cian O'Connor riding Eve D'Ouilly, owned by Nicole Walker.
Cork's Shane Sweetnam riding CSF James Kann Cruz (ISH), owned by Gizmo Partners LLC and bred by Patrick Connolly
The Longines FEI Nations Cup of Ireland for the Aga Khan trophy gets underway at 3pm on Friday afternoon.
BREEDING
CSF James Kann Cruz (ISH) – 2013 gelding by Kannan (KWPN) out of CSF Telly Cruz (ISH) by Cruising (ISH)[TIH]. Breeder: Patrick Connolly. Owner: Gizmo Partners, LLC. Rider: Shane Sweetnam (IRL).
HHS Calais (ISH) – 2011 gelding by Cavalier Royale (HOLST) out of MHS OBOS Cruise (ISH) by OBOS Quality (OLD). Breeder: Ita Brennan, Co. Kilkenny. Owner: Bravo Hughes Ltd. Rider: Michael Pender (IRL).
Cavalier Teaca (ISH) – 2007 bay mare by Glidawn Diamond (ID) out of Teaca (ISH), by Cavalier Royale (HOLST).
Bred by Barry Kiernan, Co. Longford. Owner: Marguerite Ryan.
HHS Vancouver (ISH): 2013 gelding by Indoctro (KWPN) out of La Juanita by Don Juan de La Bouverie (SBS). Bred and owned by Marion Hughes. Ridden by Mikey Pender.