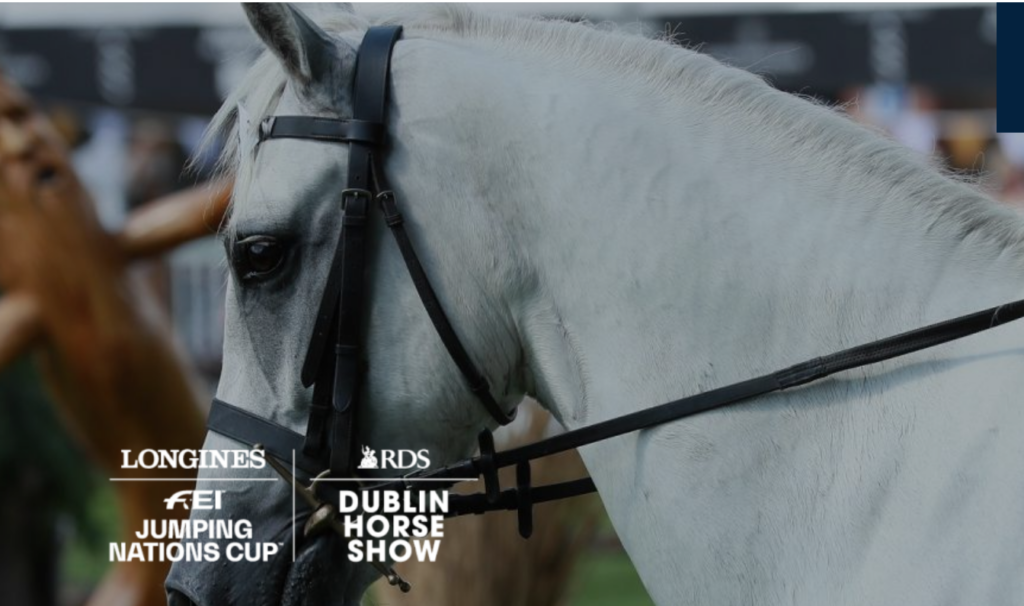 Day 2 of Dublin Horse Show is traditionally dubbed 'Draught Day' with hordes of Draught enthusiasts, from home and abroad, flocking around Ring 1 for the Irish Draught mare classes in the morning. Another attraction is the parade of Draught stallion hopefuls before tomorrow's class is judged and the Irish Draught foal championship in the evening. It was also the day of filly power with both the two and three-year-old championships going to the respective filly class winners.
From this morning's two-year-old classes, it was a popular win for the Walsh family from Dunmanway with their home-bred bay Gatsbys Girl. A recent winner of the All Ireland two-year-old filly final at Kildysart Show, that win followed up her All Ireland yearling filly title at Bridgetown last year and now, the Dublin two-year-old crown. She is by the late thoroughbred Darsi, winner of the Croker Cup here in 2019 while her dam is by Hanoverian stallion Lux Z, a Sydney Olympics veteran and a very popular covering sire in his years at. Kedrah House Stud. Standing reserve in the two-year-old championship was Sharon Kelly-Murphy's heavyweight class winner Annaghmore Dunkirk, one of two winners this morning by the Cornet Obolensky son HHS Cornet.
The following lightweight two-year-old gelding class was won by Wexford owner Julie Radden's homebred Master Clinton, however in the championship, the famed French stallion owner Bernard le Courtois and Richard Ramsay chose the Darsi filly with Annaghmore Dunkirk in reserve.
Later on Thursday evening, another filly – IHB chairman Tiernan Gill's Flogas Penelope was the second filly to scoop a Dublin championship today. In reserve was George Chapman's Commander Corporate, yet another bred by successful Wexford breeder MJ Kavanagh, the winner of the heavyweight three-year-old gelding class.
It was a superb day for Grace Maxwell Murphy who partnered Patrick Curran's ridden Connemara champion Glencarrig Douvan, by Glencarrig Knight, to win the Eugenia Murray Cup. Grace and her husband William McMahon won the Irish Draught mare championship and Eileen Parkhill salver, named after the great Irish Draught doyenne, with their Gleann Rua For Love, bought as a foal from a Done Deal advert.
The Cappa Amadeus grey won the young Irish Draught mare class and the reserve champion came from the older mare class, won by Padraig Bohan's Gortfadda Ruby Kingdom, incidentally a former winner herself of the young mare class here.
TWO-YEAR-OLD CHAMPIONSHIP
Champion: Gatsbys Girl (ISH) – 2021 filly by Darsi (TB) – Littlefield Lux (ISH) by Lux Z (HANN). Breeder/Owner: John Walsh, Co. Cork.
Reserve: Annaghmore Dunkirk (ISH) – 2021 gelding by HHS Cornet (ISH) out of HHS Flo Echo (ISH) by Clover Echo (ISH) (TIH). Breeder: Aoife Healion, Co. Offaly. Owner: Sharon Kelly-Murphy.
THREE-YEAR-OLD CHAMPIONSHIP
Champion: Flogas Penelope, by VDL Jardonnay.
Reserve: Commander Corporate (ISH) – 2020 gelding by Corporal VDL (WESTF) out of Aldatus Clover Gold (ISH), by Aldatus Z (OLD). Breeder: Michael J. Kavanagh, Co. Wexford. Owner: George Chapman.
IRISH DRAUGHT MARE CHAMPIONSHIP
Gleann Rua For Love (ID) – 2020 mare by Cappa Amadeus (ID) out of Springvale Countess (ID) by Castana. Breeder: Noel Sheridan, Co. Mayo. Owners: Grace Maxwell Murphy & William McMahon.
Gortfadda Ruby Kingdom (ID) – 2013 mare by Coolcronan Wood (ID) out of Ruby Steele, by Star Kingdom. Breeder: Sean Scannell, Co. Cork. Owner: Padraig Bohan.
RIDDEN CONNEMARA CHAMPIONSHIP
Glencarrig Douvan (CP) – 2018 stallion by Glencarrig Knight (CP) out of Wyncroft Dawn (CP), by Laerkens Cascade Dawn. Breeder: Patrick Curran, Co. Galway. Owner: Breeder.
Reserve: Caherpuca Chappy (CP) – 2017 gelding by Coolin America (CP) out of Loughfadda Darling (CP) by Rebel Justice. Breeder: Michael & Kendra Rabbitte, Co. Galway. Owner: Daryl Curran.