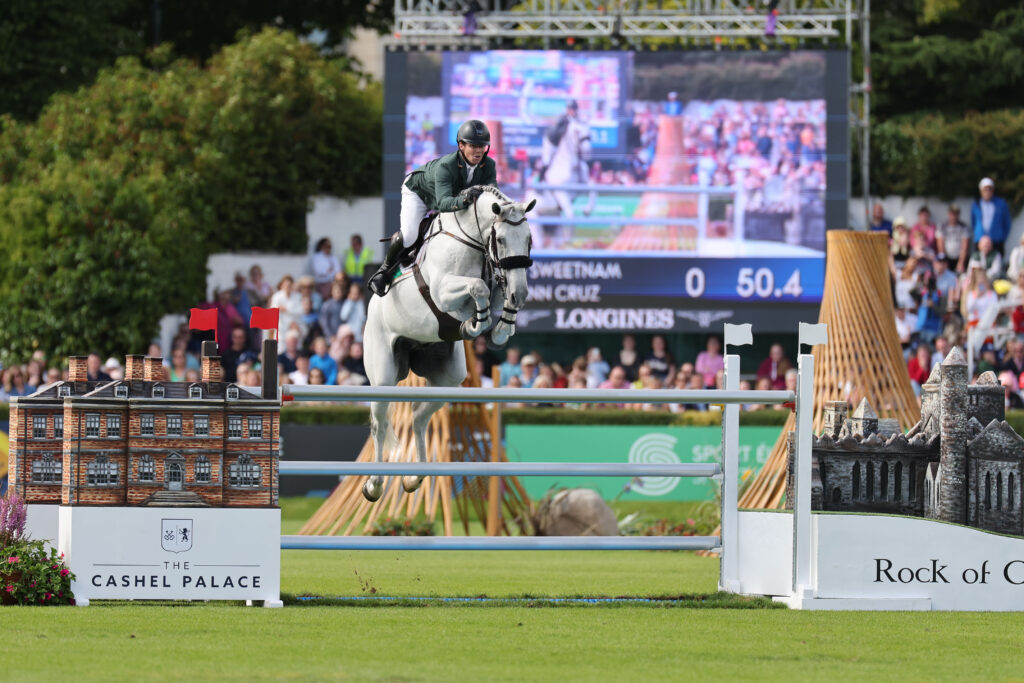 Photo; Shane Sweetnam riding the Irish-bred CSF James Kann Cruz (ISH) to a clear first round in the Aga Khan (Photo: Laurence Dunne)
The Irish Show Jumping team of Galway's Michael Duffy riding Cinca 3, Kildare's Michael Pender riding HHS Calais (ISH), Meath's Cian O'Connor riding Eve D'Ouilly, and Cork's Shane Sweetnam riding CSF James Kann Cruz (ISH), managed by Michael Blake, have claimed a runner-up finish in today's (Friday) Longines FEI Nations Cup of Ireland for the Aga Khan trophy at the RDS in Ballsbridge.
Galway's Michael Duffy riding Cinca 3 were first to jump for Ireland. They jumped all the fences clear but a foot in the water saw them open with a four fault score.
Kildare's Mikey Pender was second in for Ireland riding the Irish-bred HHS Calais (ISH), bred by Ita Brennan. Once again the fences proved no problem for the Irish combination but another foot in the troublesome water saw them finish on the same four fault score as Michael Duffy.
The third rider in for Ireland was the hugely experienced Cian O'Connor. He made it safely over the water with Eve D'Ouilly and looked to be heading for a clear round. However the last part of the combination fell to leave them on the same four fault score as his two previous team members.
Ireland really needed a clear round from their anchor rider to stay in touch with the leaders and Shane Sweetnam delivered exactly that with the brilliant Irish-bred CSF James Kann Cruz (ISH), bred by Patrick Connolly. They never touched a fence on their way to a superb clear to the delight of the home crowd at the RDS arena.
That left Ireland as one of three teams in a share of second place at the halfway stage on an 8 fault score. Switzerland were the team to catch on a zero score with France and Great Britain on the same score as Ireland in second.
The second round got off to the perfect start for Ireland as Galway's Michael Duffy and Cinca 3 jumped clear to a huge cheer from the home fans. Switzerland remained the team to catch with Steve Guerdat and Venard De Cerisy completing a double clear round to keep the Swiss on a zero score. Mikey Pender riding HHS Calais (ISH) then repeated their 4 fault score from the first round and at that stage Ireland had moved clear of France and Britain and were the only team within touching distance of the Swiss. Cian O'Connor jumped a brilliant second round clear with the exciting 9-year-old Eve D'Ouilly but the Swiss were in unbeatable form.
With all of their first three riders jumping clear in the second round, Switzerland could not be beaten, securing their first Aga Khan win since 1983. With second place assured, Shane Sweetnam decided not to jump in the second round and so Ireland finished on a two round total of 12 faults – well clear of Mexico who finished third on 16 faults. France finished fourth ahead of Belgium in fifth, Netherlands in sixth, Spain finished seventh with Britain in eighth.
Today's result means Ireland have successfully qualified for this years Longines FEI Nations Cup Final in Barcelona, finishing second on the league table.
Speaking after Ireland's runner-up finish, Irish Horse Board Director General Alison Corbally said:
"Many congratulations to all our Irish horses and riders and to team manager Michael Blake on their runner-up finish in the Aga Khan. It was fantastic to have two Irish-bred horses on the Irish team in HHS Calais bred by the late Ita Brennan and CSF James Kann Cruz, bred by Patrick Connolly. It is very special for any breeder to have one of their horses on an Aga Khan team and I wish Ireland the best of luck in the Nations Cup Final in Barcelona. Congratulations also to Switzerland on a well deserved victory – their first in 40 years."
Breeding
CSF James Kann Cruz (ISH) – 2013 gelding by Kannan (KWPN) out of CSF Telly Cruz (ISH) by Cruising (ISH)[TIH]. Breeder: Patrick Connolly. Owner: Gizmo Partners, LLC. Rider: Shane Sweetnam (IRL).
HHS Calais (ISH) – 2011 gelding by Cavalier Royale (HOLST) out of MHS OBOS Cruise (ISH) by OBOS Quality (OLD). Breeder: Ita Brennan, Co. Kilkenny. Owner: Bravo Hughes Ltd. Rider: Michael Pender (IRL).