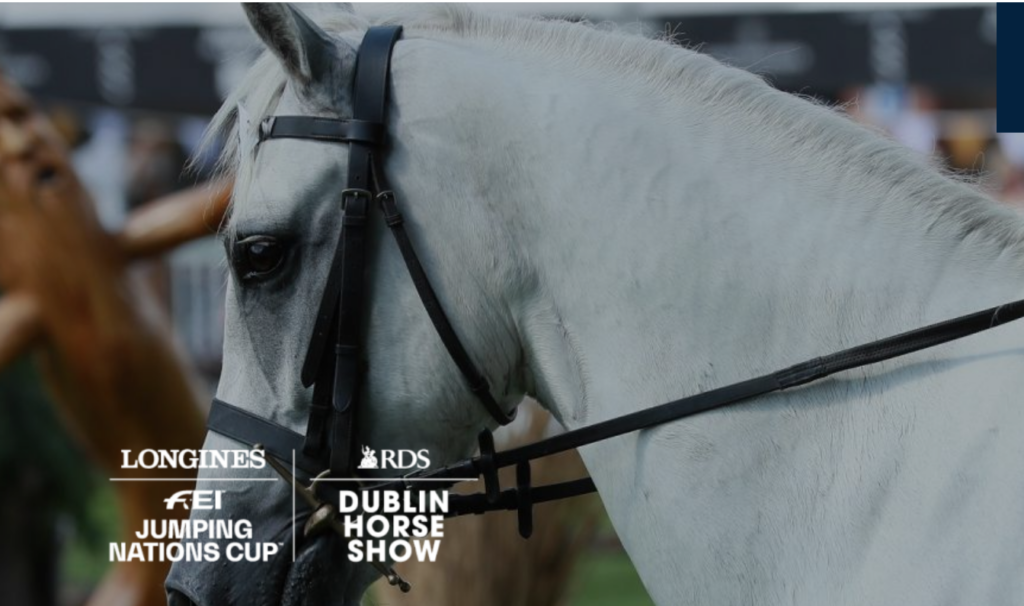 Brilliant sunshine, plus the prospect of championships galore and the Aga Khan Nations Cup brought crowds galore out to the RDS on the third day of the Dublin Horse Show.
In Ring 1, the young horse championships were the curtain-raiser for a non-stop stream of titles won throughout the day.

The first went to Oranmore owner Pat Finn when his as yet unnamed Chelis HC Z filly, bred in Kildysart by Gerard Grace, took the yearling championship. The elegant bay recently won the All Ireland yearling filly title too at host show Bridgetown and stood champion this morning ahead of Crumlin exhibitor Alistair McDonald's TMS Point Break, a chestnut gelding by the Darco stallion Oganna Sitte.

In the traditional championship, it was yet another MJ Kavanagh-bred: Daphne Tierney's Bloomfield Waterville that won here. By the thoroughbred Lucarelli out of the Watermill Swatch mare AFS Grace Kelly, the three-year-old gelding stood traditional champion ahead of Ann Lyons' Greenhall Striking Lady.
This yearling filly was the All Ireland traditional foal champion last September at Mountbellew for her Tinahely breeder Derry Rothwell.

Yesterday's two-year-old champion Gatsby's Girl had been tipped by several ringside pundits for more championship honours and finished Friday as the reserve champion filly and the Pembroke champion awarded to the best owner-bred.

By the 2019 Croker Cup champion Darsi and out of the Lux Z mare Littlefield Lux, the Walsh family from Dunmanway had a good run at Dublin with this upstanding filly.
Standing reserve in the Pembroke Cup decider was Julie Radden's Master Clinton, one of two Ring 1 winners for HHS Cornet. The second, Sharon Kelly-Murphy's Annaghmore Dunkirk, the reserve two-year-old champion took another reserve tricolour in the Laidlaw Cup for the supreme champion young horse.
In The Irish Field Breeders Championship, Waterford owner Richard Drohan finally won the 'holy grail' when his Golden Moments and her News Anchor colt foal were the eventing section champions. By the Master Imp son Golden Master and out of a Pointilliste-Don Tristan dam, the seven-year-old grey is 92.97% thoroughbred and typical of the modern, blood mare required for adding quality to eventing prospects.

Grace Maxwell Murphy's run of success continued in the Irish Draught stallion class when their Edenagor Star won the overall stallion championship.
Divided into two sections, on account of the large numbers, the three-year-old won the opening class. Approved as a Class 1 in the springtime, the Dunsandle Diamond son out of the Carrickrock Close Shave mare Edenagor Rose, he was bred in Ballyshannon, Co Donegal by Jim McNulty and the proud breeder was on hand to watch his wins.
Reserve in this section was John Bracken's home-bred six-year-old Scrapboy, a son of the Mexican export Scrapman and out of a King Elvis dam, Phantom Queen and a resident at Drumhowan Stud.
In the second section, it was another Tribesman win when Pat Hoare's Moylough Legacy emulated his Dublin-winning sire Carrabawn Cross. Bred in Boyle, Co. Roscommon and out of the Castana mare Ardcarne Vilamear, the liver chestnut went on to stand overall reserve stallion champion to Edenagor Star.
Second in this class was Parkroe Stud owner Tommy McMahon's Ludden Skywalker, another newly-approved stallion and another three-year-old. By the late Luke Skywalker, the last Irish Draught stallion to stand at Clongeel Stud, he is out of the Shenandoah Prince Holly mare Cloncastle Hollie and was bred in Ballyneety, Co. Limerick by Eamonn Kennedy.
One stallion championship decided, two more Breeders Championship victors crowned, tomorrow sees the Coote Cup classes for broodmares and foals, plus the Croker Cup. This year's thoroughbred stallions had their preliminary parade today, after the Breeders Championship and tomorrow's class looks set to be an exciting prospect.
YEARLING CHAMPIONSHIP
Champion: Un-named – 2022 filly by Chelis HC Z (ZANG) out of Rusheen Lux (ISH) by Lux Z (HANN). Breeder: Gerard Grace, Co. Clare. Owner: Pat Finn.
Reserve: TMS Point Break – 2022 gelding by Oganna Sitte (sBs) out of Suma's Scarlet Woman (ISH), by Womanizer (KWPN). Breeder: Tanya Smith, Co. Antrim. Owner: Alistair McDonald.
PEMBROKE (HOME-BRED) CHAMPIONSHIP
Champion: Gatsbys Girl (ISH) – 2021 filly by Darsi (TB) – Littlefield Lux (ISH) by Lux Z (HANN). Breeder/Owner: John Walsh, Co. Cork.
Reserve: Master Clinton (ISH) – 2021 gelding by HHS Cornet (ISH) out of Rose Garland (WNTR) by Mr H VII (BEWB). Breeder/Owner: Julie Radden, Co. Wexford.
OWEN RYAN (FILLY) CHAMPIONSHIP
Reserve: Gatsbys Girl.
LAIDLAW (SUPREME YOUNG HORSE) CHAMPIONSHIP
Reserve: Annaghmore Dunkirk (ISH) – 2021 gelding by HHS Cornet (ISH) out of HHS Flo Echo (ISH) by Clover Echo (ISH) (TIH). Breeder: Aoife Healion, Co. Offaly. Owner: Sharon Kelly-Murphy.
THE IRISH FIELD BREEDERS CHAMPIONSHIP
Show jumping section reserve champion: HHS Cornetta Royale (ISH) – 2016 mare by Cornet Obolensky (WESTF) out of HHS Florida (ISH), by Heritage Fortunus (HANN). Breeder: Miguel Bravo, Co. Kilkenny. Owner: Dermot O'Sullivan.
Eventing section champion: Golden Moments (ISH) (TIH) – 2016 mare by Golden Master (TB) out of Coragh Pride (ISH) by Pointilliste (TB). Breeder: Mosie White, Co. Wexford. Owner: Richard Drohan.
Reserve champion: Kief Queen B (ISH) – 2013 mare by Munther (TB) out of Madame Noir (ISH) by Kings Master (ISH) (TIH). Breeder: Kieran Fahey. Owner: Yvonne Pearson.
IRISH DRAUGHT STALLION CHAMPIONSHIP
SECTION A
Champion: Edenagor Star (ID) – 2020 stallion by Dunsandle Diamond (ID) out of Edenagor Rosie, by Carrickrock Close Shave. Breeder: Jim McNulty, Co. Donegal. Owner: Grace Maxwell Murphy and William McMahon.
Reserve: Scrapboy (ID) – 2017 stallion by Scrapman (ID) out of Phantom Queen, by King Elvis. Breeder/Owner: John Bracken, Co. Westmeath.
SECTION B
Champion: Moylough Legacy (ID) – 2013 stallion by Carrabawn Cross (ID) out of Ardcarne Vilamear, by Castana. Breeder: John Gilboy, Co. Roscommon. Owner: Pat Hoare.
Reserve: Ludden Skywalker (ID) – 2020 stallion by Luke Skywalker (ID) out of Cloncastle Hollie, by Shenandoah Prince Holly. Breeder: Eamonn Kennedy. Owner: Tommy McMahon.
Champion: Edenagor Star. Reserve: Moylough Legacy.