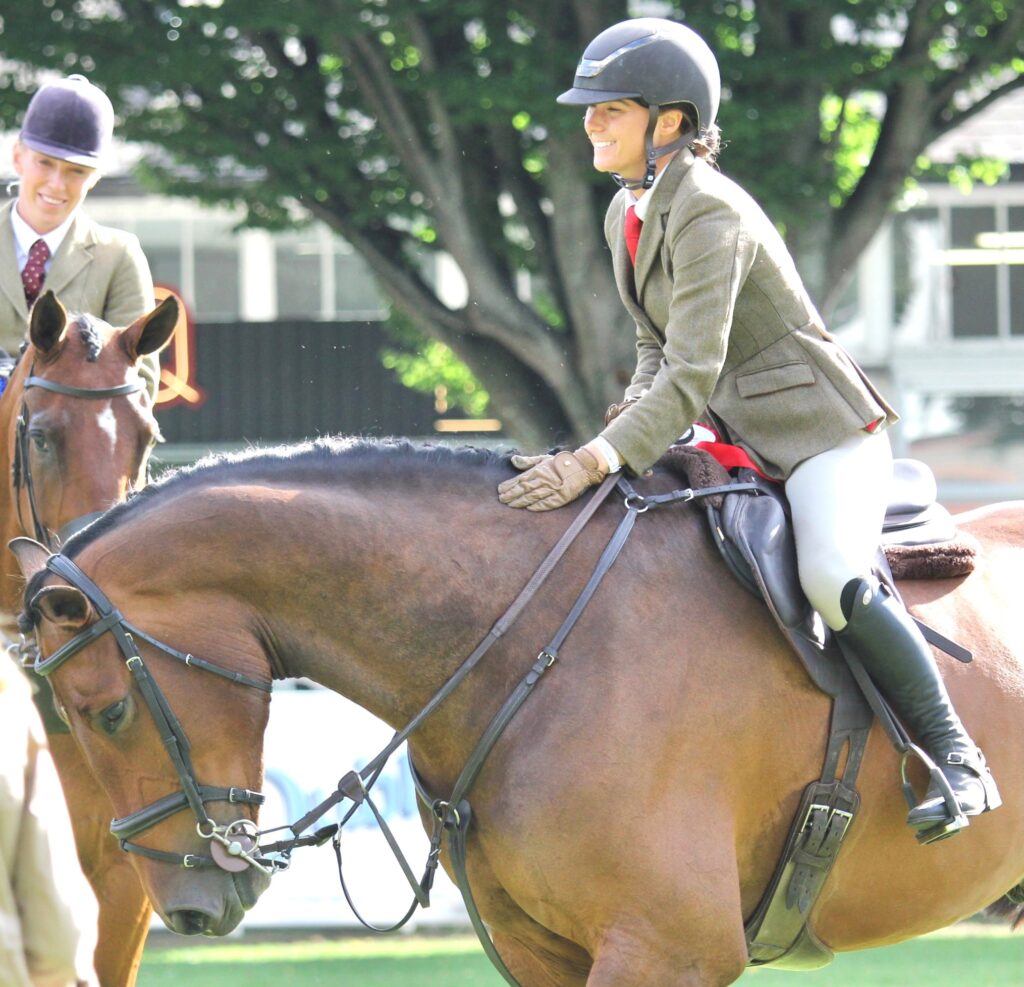 Photo – Rachel Moore on Ballymacbrennan Merdios, winners of the final class at the 2023 Dublin Horse Show
The final day of Dublin Horse Show 2023 over and done. Although firstly an update on the last championship to take place on Saturday night when Suzanne and Laura O'Brien's Munther's Ranger was crowned the overall Sportsman champion just before 9.30pm.
The Sportsman classes, divided into two sections for lightweight and middle/heavyweight horses competed by amateur riders, are designed to showcase the importance of the leisure horse market within the Irish breeding industry.
The first section to be completed was the middle/heavyweight class, diverted to a vacant Ring 2. Here the winner was Niamh O'Carroll whose long trip from West Cork paid off when her Leaca Re Valentino won this class. Bred on Irish Draught lines, an ideal breed for the amateur market, the 13-year-old is by Rockrimmin Robusticus out of the Carrabawn View dam, Lake View Katie.
In the overall championship, this year's Sportsman title went to the lightweight class winner: Munther's Ranger, owned by the mother and daughter team from Adare, Co. Limerick. A five-year-old by the thoroughbred sire Munther, he is from breeder Kieran O'Gorman's successful line Breeders Championship prizewinning Brookfield line.
The reserve title went to the second-placed in the lightweight class, which took place under floodlights, and this was Mary Byrne Fleming's Bishopshall Sparky. Another Irish Draught ambassador, being by Huntingfield Sunny C and out of the Clover Hill mare Sparky Clover, he was ridden by Clara Fleming-Duggan.
This year's Broodmare Futurity champion is Laurina, bred by the late Dr. Noel Cawley. A very fitting winner of the Cruising six-year-old championship, with Leah Stack on board, she is by Stakkato Gold out of the traditionally-bred Rincarina by Cruising, both with their own formidable Dublin records.
The Broodmare Futurity is aimed at earmarking broodmares with potential to produce top show jumping progeny and is confined each Horse Show to the top fillies and mares from the loose performance, four, five and six-year-old classes.
Reserve in this class was John Burchill's Goresbridge buy, ABC Bobby Jean, winner of the filly section in the three-year-old loose performance final. By HHS Cornet, a stallion with a number of winning offspring this week, ABC Bobby Jean is another from a stellar family line as breeder Patrick Kehoe's Kannan dam ABC Saving Grace was last year's six-year-old final at the World Breeding Federation for Sport Horses (WBFSH) young horse championships at Lanaken.
In the final championship of this year's Horse Show, coinciding with the Grand Prix jump-off on the opposite side of the Anglesea Stand, this year's working hunter champion is Rachel Moore's Ballymacbrennan Merdios. This seven-year-old is by Mermus R out of Ballymacbrennan Condita and he earned his Antrim breeder George Nixon Beacom €500, which was presented to each working hunter winner's breeder.
The reserve working hunter title went to the second-placed in this class, Lynne Shields Flores Diamond Count, by the Oldenburg sire Floriscount.
SPORTSMAN CHAMPIONSHIP
Champion: Munther's Ranger (ISH) – 2018 gelding by Munther (TB) out of Brookfield Royale (ISH), by Lux Z. Breeder: Kieran O'Gorman, Co. Cork. Owner: Suzanne & Laura O'Brien. Rider: Suzanne O'Brien.
Reserve: Bishopshall Sparky (ID) – 2013 gelding by Huntingfield Sunny C (ID) out of Sparky Clover (ID) by Clover Hill (ID). Breeder/Owner: Mary Byrne Fleming, Co. Kilkenny. Rider: Clara Fleming-Duggan.
BROODMARE FUTURITY
Champion: Laurina (ISH) – 2017 mare by Stakkato Gold (HANN) out of Rincarina (ISH) (TIH) out of Cruising (ISH) (TIH). Breeder/Owner: Noel Cawley. Rider: Leah Stack (IRL).
Reserve: ABC Bobby Jean (ISH) – 2020 filly by HHS Cornet (ISH) out of ABC Saving Grace (ISH) by Kannan (KWPN). Breeder: Patrick Kehoe, Co. Carlow. Owner: John Burchill.
WORKING HUNTER CHAMPIONSHIP
Champion: Ballymacbrennan Merdios (ISH) – 2016 mare by Mermus R (KWPN) out of Ballymacbrennan Condita (ISH), by Condios (HOLST). Breeder: George Nixon Beacom. Owner/Rider: Rachel Moore.
Reserve: Flores Diamond Count (HANN) – 2013 gelding by Floriscount (OLD) out of Ballybannon Lass (ISH) by Jack of Diamonds (ID). Breeder: Eugene Milligan, Co Down. Owner: Lynne Shields. Rider: Gwen Scott.