The 98th Annual Connemara Pony Show took place this week (Aug 15th-18th) at the Showgrounds, Clifden, Co Galway, with a huge turnout of competitors, spectators and potential purchasers from Ireland and overseas.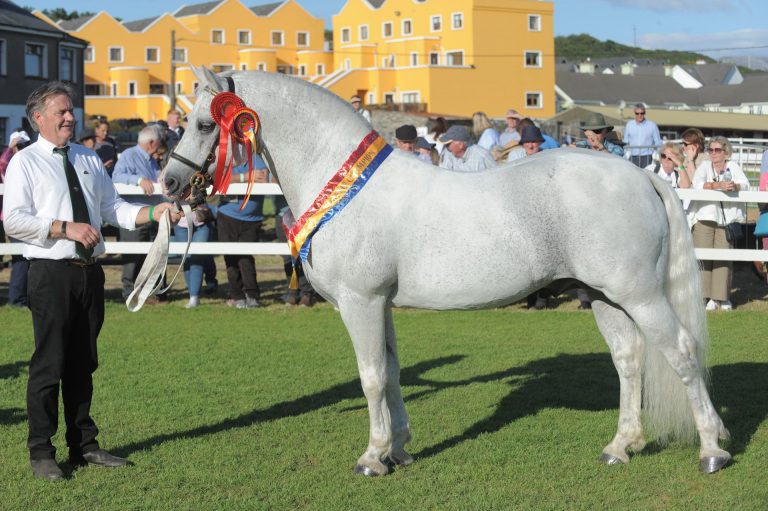 Supreme Champion 2023 – Dunloughan Troy (Photo: Connemara Pony Breeders' Society)
The show is organised by The Connemara Pony Breeders' Society, who are committed to support it's members to establish the Connemara Pony as the world's premier pony for sport and recreation through the provision of services of the highest standards of excellence, and to act in the best interests of it's members and it's affiliated Societies throughout the world.
The Supreme Champion Connemara Pony 2023 was awarded to Dunloughan Troy, (Currachmore Cashel x Bay Lass) owned, bred and shown by Terence Sweeney having earlier won the 7-year-old and over Stallion Class. The Reserve Supreme and Broodmare Champion was Loughmor Suzy, (Linsfort Barney x Hazy Rebel) owned & shown on the day by Patrick Kearns. The mare bred by Sean Cooney won the 10 to 15-year-old mare class. The Reserve Broodmare Champion was Copperbeech Polly (Menlough Owen x Carrowkeel Star) owned, bred and shown by Fiona & Thomas Grimes.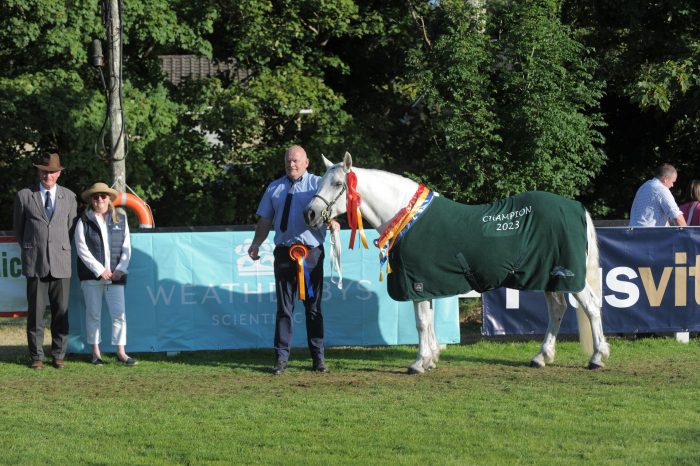 Broodmare Champion Loughmor Suzy (Photo: Connemara Pony Breeders' Society)
The Junior Champion for 2023 is Carnane Bonnie (Blakehill Sparrow x Robe Moonlight) owned by Bryan O'Halloran and bred by Michael Holmes. The Reserve Junior Champion is Teach Mor Peige (Glencarrig Monarch x Teach Mor Queen Donna) owned & bred by Paraic Folan, shown by Páid Ó Cualáin
A new record was set in the Puissance competition on Friday evening in Clifden. The Connemara Pony Boulabeha's Little Princess (Prince of Thieves x Ashview Lass), ridden by Holly Maher, bred by Carol Nielson and owned by by Noel Maher, cleared the wall at a massive 1m65 to take the winners prize.
The Clifden High Performance class was won by Sea Storm (Ballinavilla Prince x Little Nora), ridden by by Talitha Diamond, bred by Joseph Mannion and owned by Diamond Equine Renvyle. The Performance Working Hunter saw the top prize awarded to Agharanny Minstrel (Castleside JJ x Silver Mint), ridden by Ciara O'Connor, owned by Noreen O'Connor and bred by Sean Hynes.
The champion Ridden Pony for 2023 was Lough Derg Star (Glencarrig Joe x Sellernane Beauty), ridden by Zoe Price and bred by Marie Collins. The Reserve Champion was Glencarrig Douvan (Glencarrig Knight x Wyncroft Dawn), ridden by Grace Maxwell Murphy, bred & owned by Patrick Curran.
On Wednesday evening in Clifden, The Connemara Pony Breeders' Society hosted an educational evening at Clifden Station House Hotel. Three guest speakers offered attendees insight into an array of topics relevant to the development and promotion of the Connemara Pony. Irish Horse Board Director General Alison Corbally explained the services available from the Irish Horse Board to bring international clients to Ireland to purchase and promote our native pony. Tom Mac Lochlainn of Ashbrook Connemara Pony Stud, author and past President of the CPBS spoke about the rich history of the pony, while Sarah MacRea Thrasher and Tracy Garland spoke on their work with The Connemara Pony Online Learning Program.
The International Committee of Connemara Pony Societies and the CPBS were delighted to award Hubert Laurent with the Michael O'Malley Award in recognition for his promotion of the Connemara Pony. Renowned French breeder famed for the Melody ponies such as I Love You Melody and Poesie Melody, Hubert is also an inspector of ponies and an international judge.
The Irish Horse board congratulate all involved in a hugely successful 98th Annual Connemara Pony Show.
The Connemara Pony Sale began on Friday in Clifden with over 600 lots on offer through until Sunday August 20th.
Full results from the 98th Annual Connemara Pony Show in Clifden available HERE