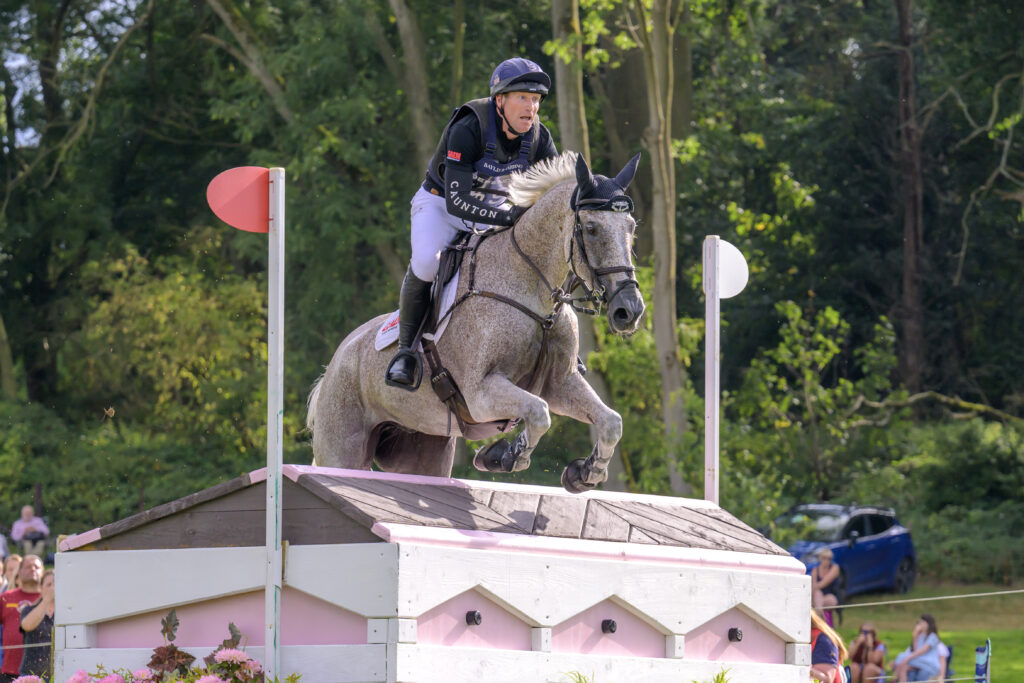 For the fifth time in-a-row, an Irish-bred horse has taken victory in the five-star Defender Burghley Horse Trials in the UK. Bred by Noel Hickey in Co Limerick and ridden by Oliver Townend (GBR), Ballaghmore Class started the final Show Jumping phase in second position. Overnight leader Tim Price (NZL) and Vitali had three fences down while Ballaghmore Class lowered a single rail to take victory on a score of 33.0. It was the second time the pair took victory at Burghley and they become only the third horse and rider combination to achieve such a phenomenal feat.
Speaking about the now 16-year-old Ballaghmore Class, Oliver Townend could not praise his Irish partner highly enough:
"He's Irish bred and I have always been a big investor in Ireland and luckily it's paying me back. He's been incredible from start to finish. I bought him from a long term friend of mine in Ireland, Kathy Charlton and yeah, he is a legend. There is nothing more I can say about him really. He is with us from 4-years-old, he was a sharp as you know what as a young horse. We have all had a go at falling off him but everyone in the yard loves him. My next superstar coming through is an Irish-bred one as well and she is hugely exciting as well for the future.
"I think every event suits Thomas [Ballaghmore Class], the tougher the better. This [Burghley] is the best five-star event in the world in my opinion. It's my favourite five-star – this, Kentucky and Badminton in that order. They are the three pinnacles of this sport with the Olympics right up there as well. He is a proper event horse. If you put him in a long format tomorrow he would still come out on top. He is a fighter. His pedigree obviously helps hugely and his mentality helps hugely but whatever era you put this horse in, he will win."

Five Irish bred horses finished in the top 10 including two of the top three. Cavalier Crystal (ISH), bred by Thomas Horgan in Waterford and ridden by Harry Meade (GBR) finished third, while Oughterard Cooley (ISH) [TIH] bred in Co Clare by Gerard Lynch and ridden by Wills Oakden (GBR) finished fifth.
Sixth place went to Majas Hope (ISH)[TIH] who was bred in Kilkenny by Jack Murphy and ridden by Pippa Funnell (GBR), just ahead of Arklow Puissance (ISH)[TIH], bred in Wicklow by Michael Byrne and ridden by Wills Oakden (GBR) in eighth. Carlow's Sam Watson finished best of the Irish riders in 13th with SAP Talisman (ISH), who was bred by Rosemary Ponsonby., while Tipperary's Padraig McCarthy finished in 17th place with HHS Noble Call (ISH), bred by Anne Hughes.
Irish Horse Board Director General Alison Corbally added:
"This really was a super result for Irish horses at what is probably the best and most prestigious five-star events in the world. Saturday's Cross Country was really tough and brought out the very best in our Irish horses as they came to the fore. The Irish Horse Board has had a very strong demand for Irish horses – particularly from the United States and UK throughout the weekend, which is not surprising with an Irish bred winner for the fifth time in-a-row, two in the top three and five in the top 10. Congratulations to all of the Irish breeders and producers on a five-star result, in particular Noel Hickey who bred Thomas (Ballaghmor Class) and Katherine Charlton who produced him so well in his young days."
Full results HERE
Breeding
1st Ballaghmor Class (ISH) – 2007 gelding Courage II (HOLST) out of Kilderry Place (ISH). Breeder: Noel Hickey (Limerick). Rider: Oliver Townend (GBR)
3rd Cavalier Crystal (ISH) – 2010 mare by Jack of Diamonds (SWB) out of Cavalier Iris (ISH) by Cavalier Royal (HOLST). Breeder: Thomas Horgan (Waterford). Rider: Harry Meade (GBR)
5th Oughterard Cooley (ISH) [TIH] was Oughterard Sky Boy(TIH) – 2010 gelding by Puissance (ISH)(TIH) out of Oughterard Sky Cruise (ISH)(TIH) by Cruising (ISH)(TIH) out of Breeder: Gerard Lynch (Clare). Rider: Wills Oakden (GBR)
6th Majas Hope (ISH)[TIH] – 2007 gelding by Porter Rhodes (TB) out of Brown Sue (ISH)[TIH] by Flagmount King (ID). Breeder: Jack Murphy (Kilkenny). Rider: Pippa Funnell (GBR)
8th Arklow Puissance (ISH)[TIH] – 2011 gelding by Puissance (ISH)[TIH] out of Cruising Jewel (ISH)[TIH] by Cruising (ISH)[TIH]. Breeder: Michael Byrne (Wicklow). Rider: Wills Oakden (GBR)
13th SAP Talisman (ISH) – 2011 bay gelding by Puissance (ISH) out of Ali Row (TB) by All Royal (TB). Breeder: Rosemary Ponsonby. Owner: Hannah Watson and Julia Watson. Rider Sam Watson
17th HHS Noble Call (ISH) – 2011 gelding by Heritage Fortunus (HANN) out of Noblina (ISH) by Cavalier Royale (HOLST). Breeder: Anne Hughes. Rider Padraig McCarthy (IRL)