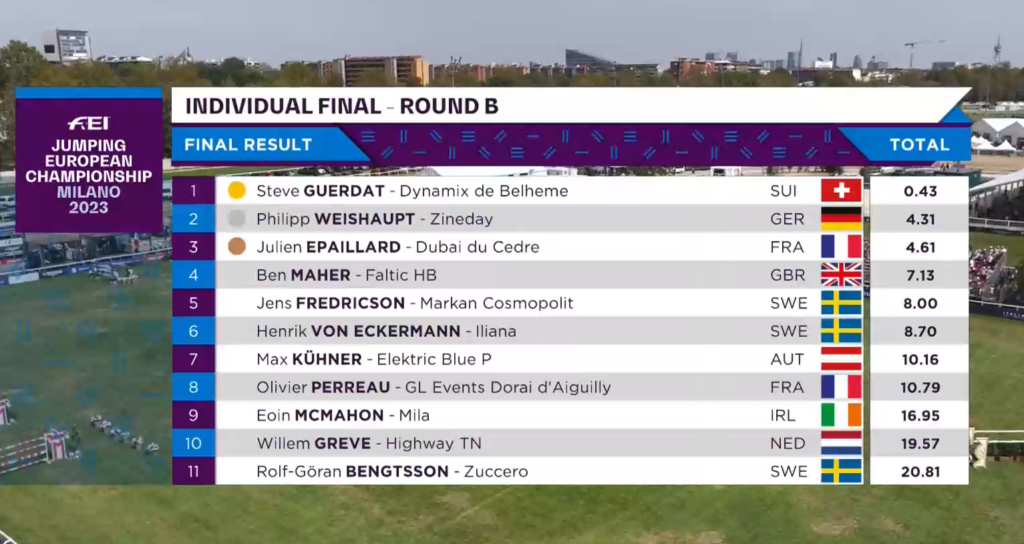 A brilliant performance from Co Clare's Eoin McMahon and the 12-year-old mare Mila saw them secure a top 10 finish today (Sunday) in the individual final at the FEI Show Jumping European Championships in Milan, Italy. McMahon started the day in 14th place and just a single fence down in each of the two rounds of the final saw him climb five places to ninth overall.
Galway's Michael Duffy started the day in the bronze medal position with the 14-year-old mare Cinca 3 but had two fences down in the first round of the final and decided not to jump in the final round to finish in 12th place overall. Cork's Shane Sweetnam and CSF James Kann Cruz (ISH), bred in Co Galway by Patrick Connolly, finished in 13th place, while Tipperary's Denis lynch finished in 20th with Vistogrand.
Switzerland's Steve Guerdat and Dynamix de Belheme are the new European Champions, taking the gold medal on a record score of 0.43 and were the only combination not to knock a fence over five rounds of jumping. Germany's Philipp Weishaupt and Zineday collected the silver on 4.31 while French rider Julien Epaillard and Dubai du Cedre took the bronze on 4.61.
On Friday in Milan, Michael Blake's Irish team of Micheal Duffy, Eoin McMahon, Trevor Breen and Shane Sweetnam secured the European Championship silver medal less than a year out from the 2024 Olympic games in Paris.
Breeding
CSF James Kann Cruz (ISH) – 2013 gelding by Kannan (KWPN) out of CSF Telly Cruz (ISH) by Cruising (ISH)[TIH]. Breeder: Patrick Connolly. Owner: Gizmo Partners, LLC. Rider: Shane Sweetnam (IRL).