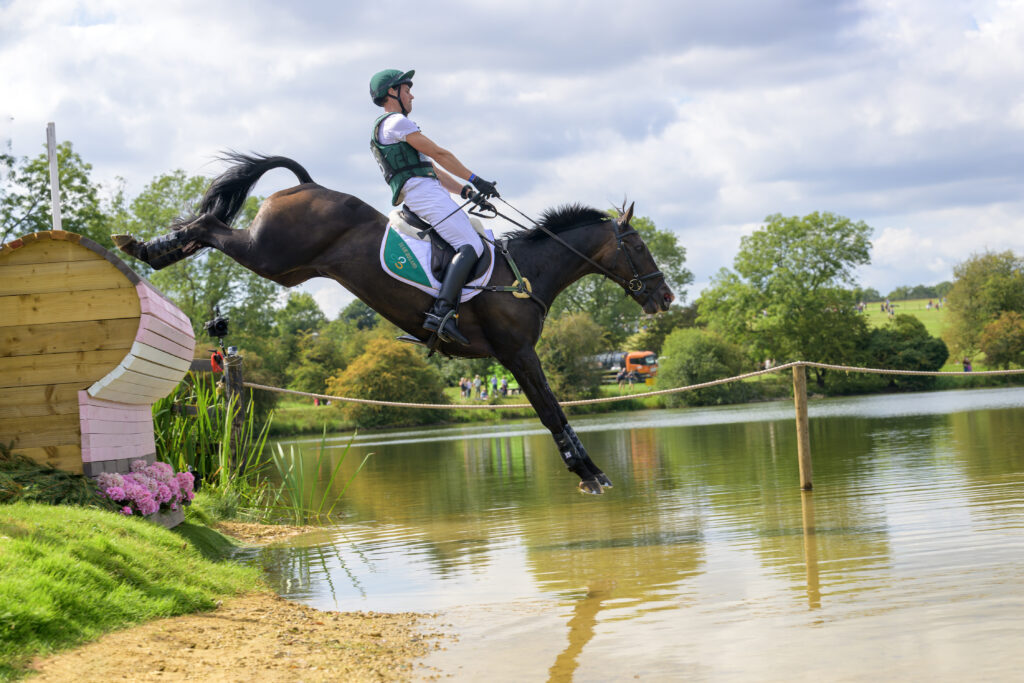 Sam Watson and the Irish-bred SAP Talisman (ISH) (Photo: Irish Eventing Times)
Irish-bred horses fill six of the top 10 places following today's Cross Country phase at the five-star Defender Burghley Horse Trials in the UK.

Ballaghmor Class (ISH), bred by Noel Hickey in Limerick and ridden by Oliver Townend (GBR), are in second place on a score of 29.0, less than a fence behind New Zealand leader Tim Price with Vatali.
Oughterard Cooley (ISH) [TIH], bred by Gerard Lynch in Clare and ridden by Wills Oakden (GBR) are in fourth on 34.9, while Carlow's Sam Watson has shot up the leaderboard to fifth place following an excellent Cross Country round aboard SAP Talisman (ISH). Watson added just 0.4 time penalties to his Dressage score with the Rosemary Ponsony-bred gelding and moved up a massive 31 places heading into Sunday's final Show Jumping phase.

Cavalier Crystal (ISH), bred by Thomas Horgan in Waterford and ridden by Harry Meade (GBR) are in sixth place on 37.4. Majas Hope (ISH)[TIH], bred in Kilkenny by Jack Murphy and ridden by Pippa Funnell (GBR) are in eighth place on 38.4, while Arklow Puissance (ISH)[TIH] bred by Wicklow's Michael Byrne and ridden by Wills Oakden (GBR), complete the top 10 on a score of 41.6.

Irish-bred horses have a long history of success at Burghley, with the last four winners of the Burghley CCI5* coming from Ireland. A massive 29 Irish-bred horses feature among the entries for this years Defender Burghley Horse Trials, with Ireland looking to complete five Burghley wins in-a-row.

The final Show Jumping phase at the Defender Burghley Horse trials gets underway at 2.15pm on Sunday afternoon.
Breeding
Ballaghmor Class (ISH) – 2007 gelding Courage II (HOLST) out of Kilderry Place (ISH). Breeder: Noel Hickey (Limerick). Rider: Oliver Townend (GBR)
Oughterard Cooley (ISH) [TIH] was Oughterard Sky Boy(TIH) – 2010 gelding by Puissance (ISH)(TIH) out of Oughterard Sky Cruise (ISH)(TIH) by Cruising (ISH)(TIH) out of Breeder: Gerard Lynch (Clare). Rider: Wills Oakden (GBR)
SAP Talisman (ISH) – 2011 bay gelding by Puissance (ISH) out of Ali Row (TB) by All Royal (TB). Breeder: Rosemary Ponsonby. Owner: Hannah Watson and Julia Watson. Rider Sam Watson
Cavalier Crystal (ISH) – 2010 mare by Jack of Diamonds (SWB) out of Cavalier Iris (ISH) by Cavalier Royal (HOLST). Breeder: Thomas Horgan (Waterford). Rider: Harry Meade (GBR)
Majas Hope (ISH)[TIH] – 2007 gelding by Porter Rhodes (TB) out of Brown Sue (ISH)[TIH] by Flagmount King (ID). Breeder: Jack Murphy (Kilkenny). Rider: Pippa Funnell (GBR)
Arklow Puissance (ISH)[TIH] – 2011 gelding by Puissance (ISH)[TIH] out of Cruising Jewel (ISH)[TIH] by Cruising (ISH)[TIH]. Breeder: Michael Byrne (Wicklow). Rider: Wills Oakden (GBR)
Breeding
Ballaghmor Class (ISH) – 2007 gelding Courage II (HOLST) out of Kilderry Place (ISH). Breeder: Noel Hickey (Limerick). Rider: Oliver Townend (GBR)
Oughterard Cooley (ISH) [TIH] was Oughterard Sky Boy(TIH) – 2010 gelding by Puissance (ISH)(TIH) out of Oughterard Sky Cruise (ISH)(TIH) by Cruising (ISH)(TIH) out of Breeder: Gerard Lynch (Clare). Rider: Wills Oakden (GBR)
SAP Talisman (ISH) – 2011 bay gelding by Puissance (ISH) out of Ali Row (TB) by All Royal (TB). Breeder: Rosemary Ponsonby. Owner: Hannah Watson and Julia Watson. Rider Sam Watson
Cavalier Crystal (ISH) – 2010 mare by Jack of Diamonds (SWB) out of Cavalier Iris (ISH) by Cavalier Royal (HOLST). Breeder: Thomas Horgan (Waterford). Rider: Harry Meade (GBR)
Majas Hope (ISH)[TIH] – 2007 gelding by Porter Rhodes (TB) out of Brown Sue (ISH)[TIH] by Flagmount King (ID). Breeder: Jack Murphy (Kilkenny). Rider: Pippa Funnell (GBR)
Arklow Puissance (ISH)[TIH] – 2011 gelding by Puissance (ISH)[TIH] out of Cruising Jewel (ISH)[TIH] by Cruising (ISH)[TIH]. Breeder: Michael Byrne (Wicklow). Rider: Wills Oakden (GBR)