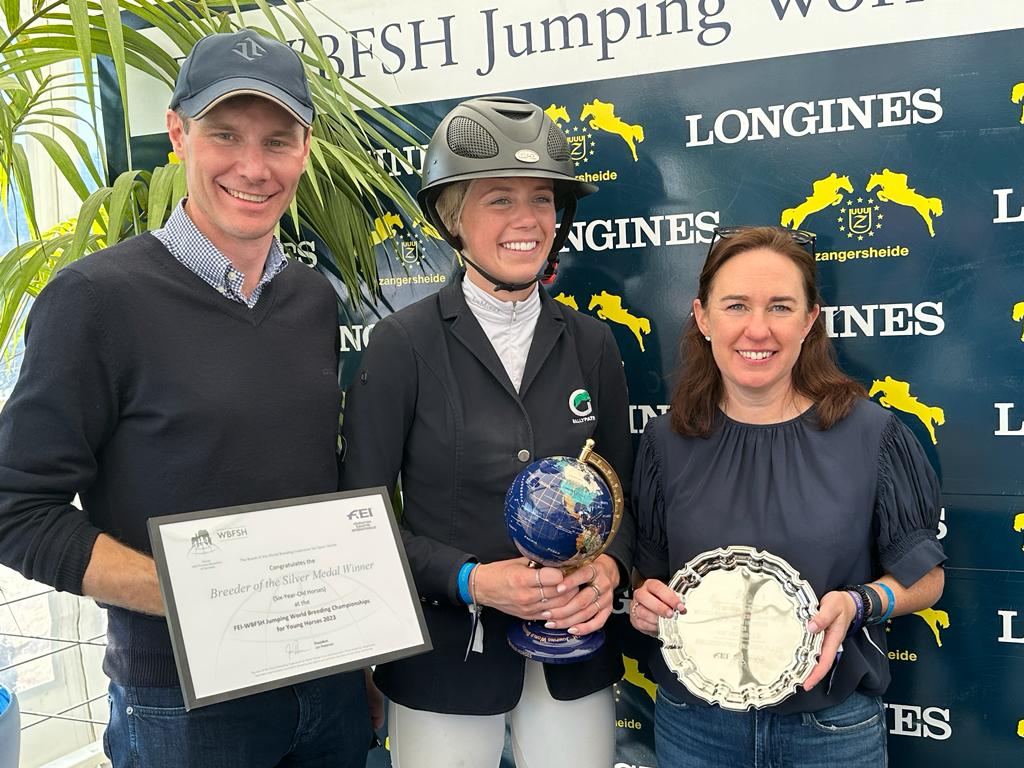 Photo: Leah Stack (centre) pictured with Lisa Cawley (right) and her husband Joe (left) following victory for Laurina (ISH) in the five-year-old final at the FEI/WBFSH World Breeding Jumping Championships for Young Horses

Kildare's Leah Stack has added to Ireland's outstanding run of results at the 2023 FEI/WBFSH World Breeding Jumping Championships for Young Horses in Lanaken, Belgium, by claiming a runner-up finish in this afternoon's (Sunday) final for 6-year-old horses with the Dr Noel Cawley-bred Laurina (ISH).
From the 256 combinations who started the 6-year-old competition at the beginning of the week, Ireland had six combinations who made it into the final, where two Irish riders jumped clear to advance to the jump-off.
Stack (20) took the lead in the jump-off with a brilliant effort aboard Laurina (ISH) as they crossed the line clear in 35.75 seconds. Germany's Katrin Eckermann and Cascajall (WESTF) managed to knock over a second off the target to secure victory, while Tyrone's Niamh McEvoy also filled fifth place for Ireland with BP Tiny Dancer (ISH), who was bred in Tipperary by Greg Broderick Ballypatrick Stables.

Irish horses and riders had already secured a clean sweep of the podium places in the earlier 5-year-old final where Kildare's Mikey Pender took victory with HHS Ocala (ISH) who was bred by Marion Hughes and Miquel Bravo in Co Kilkenny. Tyrone's Niamh McEvoy took runner-up spot with the Ronan Rothwell-bred Boleybawn Alvaro (ISH), while the third place on the podium went to the Gary Doherty-bred Ballyshan B F Super Hero (ISH) ridden by Kilkenny's Ger O'Neill.

Irish Horse Board Director General Alison Corbally said:
"This was another outstanding result for Irish horses and riders and a brilliant performance from Leah Stack to take the silver medal with Laurina (ISH). It was an emotional result for Lisa Cawley and her husband Joe following the passing of Lisa's father Dr Noel Cawley earlier this year. Noel was an incredible supporter of the Irish Sport Horse industry and his legacy will live on forever with the many fantastic horses and breeding lines that he was responsible for such as Laurina. Congratulations also to Niamh McEvoy and all the connections at Ballypatrick Stables on their fifth place finish with BP Tiny Dancer (ISH)."
Breeding
2nd Laurina (ISH) 2017 mare by Stakkato Gold (Hann) out of Rincarina (ISH)[TIH] by Cruising (ISH)[TIH. Bred and owned by Dr. Noel Cawley, Co. Kildare, ridden by Leah Stack.

5th BP Tiny Dancer (ISH) 2017 mare by Plot Blue (KWPN) out of Uptown Girl (SPH) by Concorde (KWPN). Bred and owned by GBBS International Ltd. Rider: Niamh McEvoy (IRL)