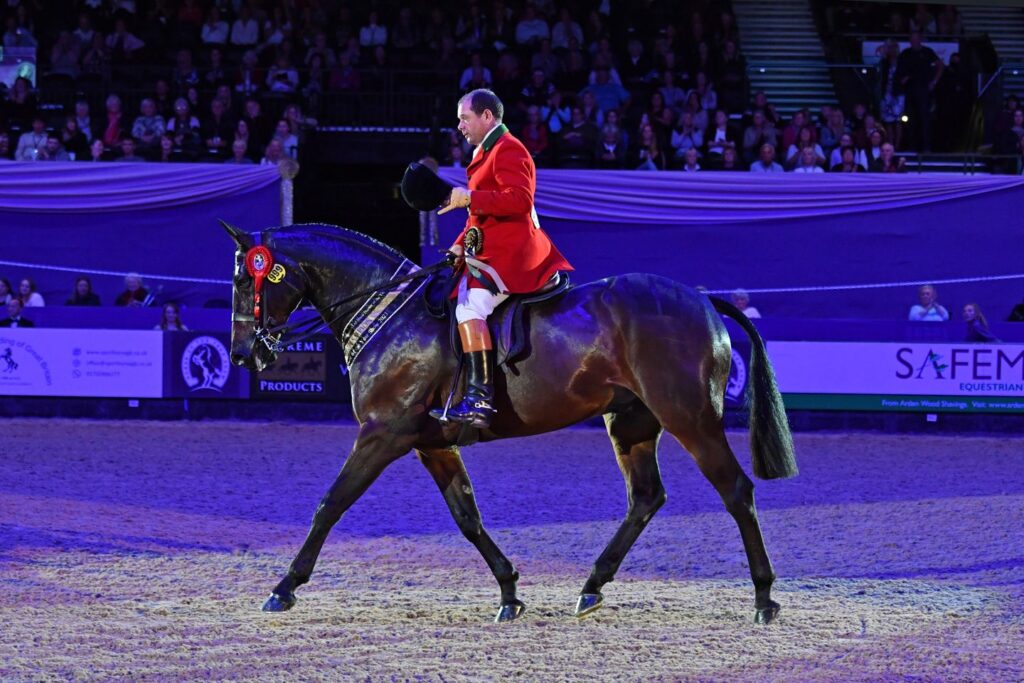 Irish horses and riders have enjoyed fantastic success over five days of action at the Horse Of The Year Show, held at the NEC in Birmingham, Great Britain, with a host of Irish wins in the showing classes and jumping arena in front of sold-out audiences.

Visitors to the first day of Horse of the Year Show (HOYS) on Wednesday were treated to a field of some of the best Workers from up and down the country in the Sport Horse Breeding of GB Working Hunter of the Year; a Championship that has been an integral part of HOYS since 1951.

After being put through their paces by judges Alycia Pritchard and Jane Hall, nine competitors had the nerve-wracking wait until the evening performance for the final results. After a classy final go round and impressive gallop, Matthew Cooper's own Traditional Irish Sport Horse Bellevue Tomboy (Tommy), bred in Northern Ireland by Ruth Loney, were crowned Champions, ending a nine-year campaign to secure a prestigious working hunter title at HOYS.

"I've been trying to win over jumps here for quite a long time," said a delighted Matthew, who had previously won a HOYS red rosette on a Highland a couple of years ago. I bought Tommy when he was six and we started in Intermediates. He's 15 now and we've come to HOYS every year and been placed most years.
"It was a tricky course today; it looked okay but when you got in there, there were a lot of questions. Tommy loves a tough course though, so when he gets in there he performs."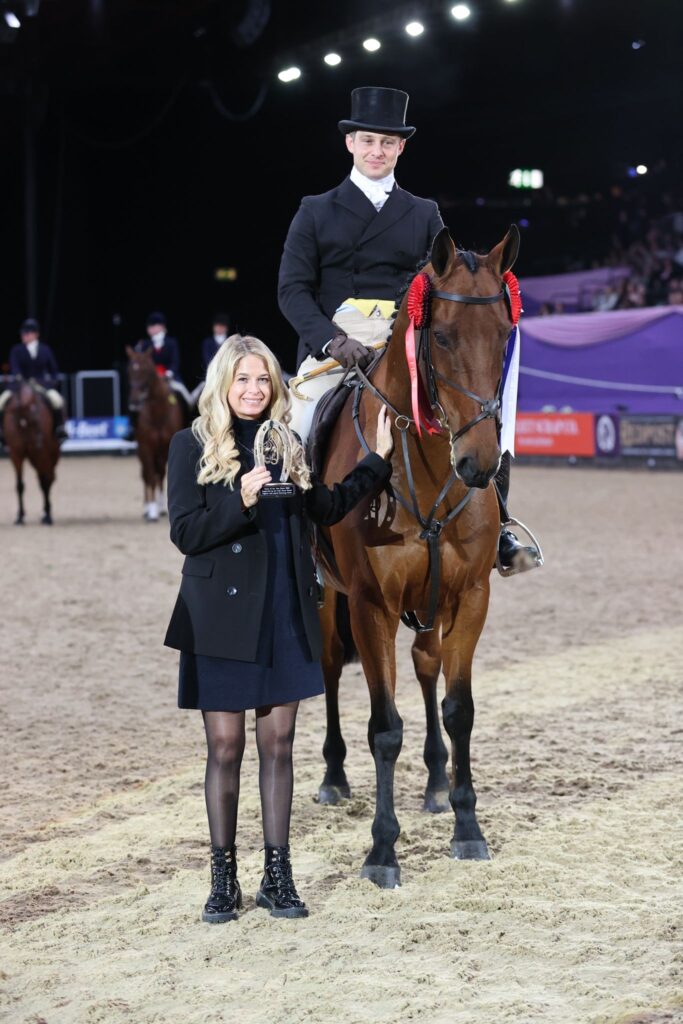 The Irish Horse Board presented a special award to Bellevue Tomboy (pictured) as the highest-placed Irish horse breed, and of the top nine in the final line-up, only two were a non-Irish breed. Reserve Champion was Hayden Hankey's Curraghgraigue Coevers Quality (ISH) bred in Tipperary by Baden Powel.

The Irish-bred MHS Morning Master, bred by Kilkenny's Sinead Brennan, ridden by Robert Walker and owned by Jill Day, took the winners prize in the Lightweight Show Hunter of the Year. MHS Morning Master later went on to win the Show Hunter of the Year Championship, a third in-a-row for owner Jill Day.. The bay gelding won the prestigious Supreme In-Hand Horse Championship at HOYS as a three-year-old and stood overall Reserve Champion. Now, five years later, he had his winning moment under saddle.

Robert Walker was full of praise for his Irish partner afterwards and said: "He's a performer; he's always been a little operator into his bridle. We are very lucky to have him, he's had an unbelievable season."
Robert took this Championship four times with the legendary View Point before his retirement after going Supreme at HOYS last year.
Reserve Champion went to Liz Prowting's Middleweight Hunter, Bloomfield Eloquence, the traditional Irish Sport Horse ridden in the ring by Loraine Homer. Eloquence, an eight-year-old grey gelding by Watermill Swatch, also took the Middleweight title in 2021 and has won the Royal International Ladies Hunter title twice. Bloomfield Eloquence (ISH [TIH], bred by Michael Kavanagh, was earlier crowned Middleweight Show Hunter Of The Year.

"He's been a superstar to our team, we adore him," said Loraine. "He rode beautifully in there this evening; like riding on a piece of string."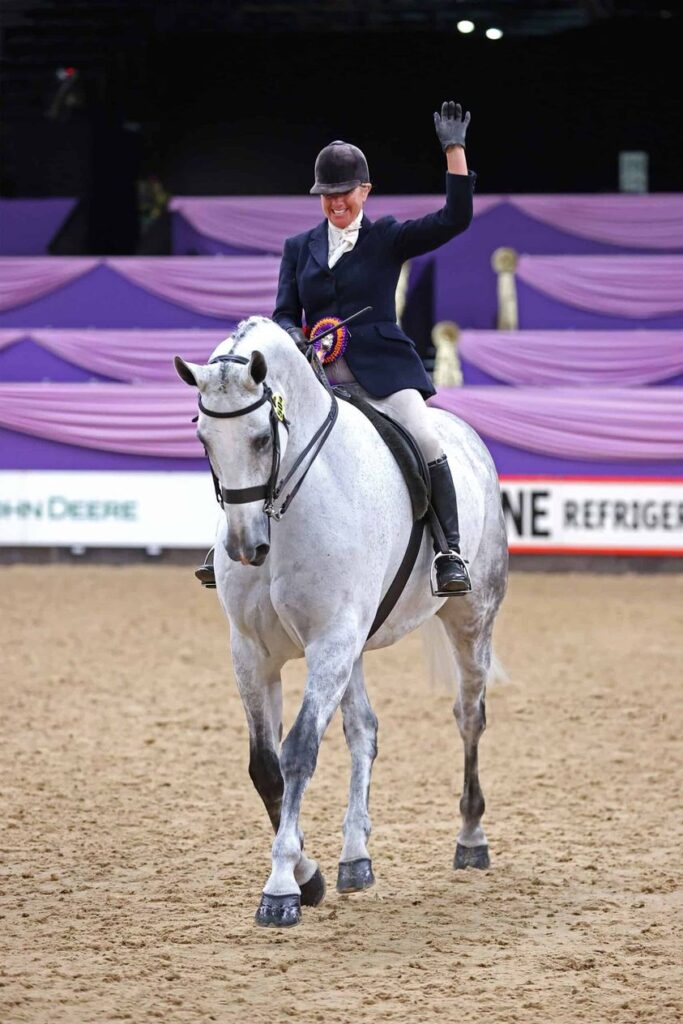 Bloomfield Eloquence (ISH [TIH]

On the 15th anniversary of The Leeman Family Maxi Cob of the Year Championship at HOYS, Jo Baker's Chestnut Irish Draught Chantilly Sandman, bred by Martin Cosgrove, stood Champion after settling for Reserve last year. Ridden by Jayne Ross, this was the 13-year-old gelding's first HOYS centre line moment.
"He was absolutely fantastic, he did not miss a beat," said Jayne. "He's always a lovely horse to show, but he was just perfect today."

Dublin Street Fighter, owned by Mesdames Hookham and Treleaven and ridden by Matthew Ainsworth, reclaimed the Heavyweight Show Hunter of the Year title from 2021. Now in his third season with Matthew, the Irish Sport Horse proved what a true-to-type heavyweight he is.

Speaking after the class, Matthew said: "He's been phenomenal. He's a true heavyweight and just seems to smile at this show. He went superbly today and that's credit to all the team. He's very straightforward at home. My partner Charlotte basically treats him like a Labrador; he has no pressure at all. He hacks around and has a nice time."

The Irish Horse Board sponsored the highest placed Irish-bred pony in the Mountain & Moorland ridden Connemara Pony of the year, with the 8-year-old stallion Castle Kestrel, bred by Henry O'Toole, taking the win in a hotly-contested class with Lucy Glover in the saddle.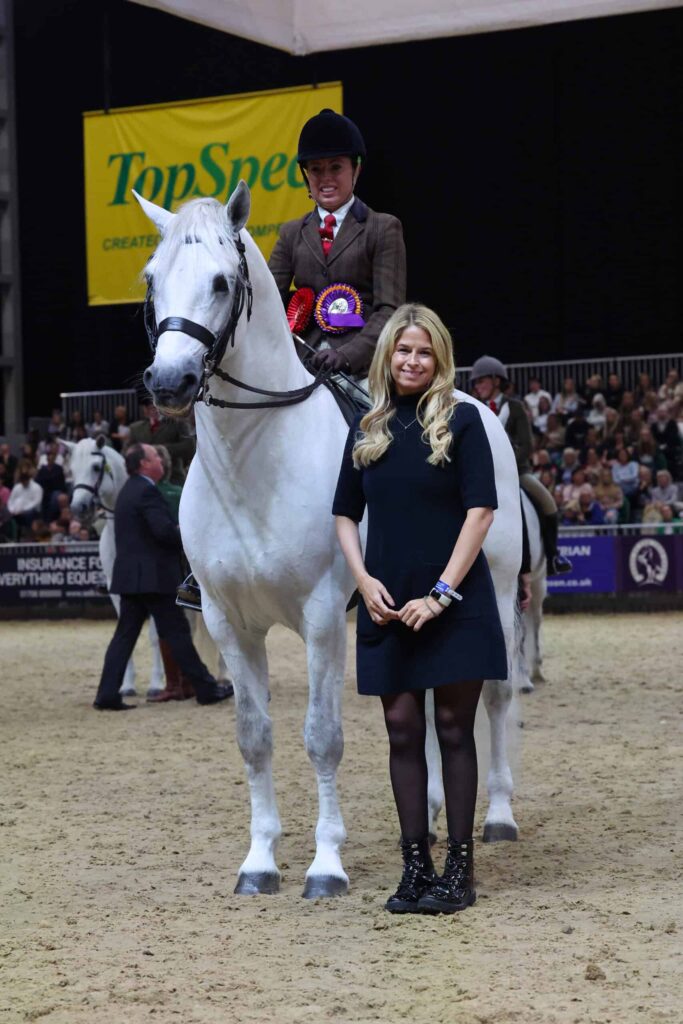 There was a brilliant win by the Irish Sport Horse Shanbally Legacy, bred by Joseph Egan and ridden by Claire Oliver, in the Small Show Hunter of the Year Championship, while the Irish Draught gelding SCT Master of the Hounds, bred by Tom Burke, claimed the Intermediate Show Hunter of the Year Championship, ridden by Georgina Kirby-Moore.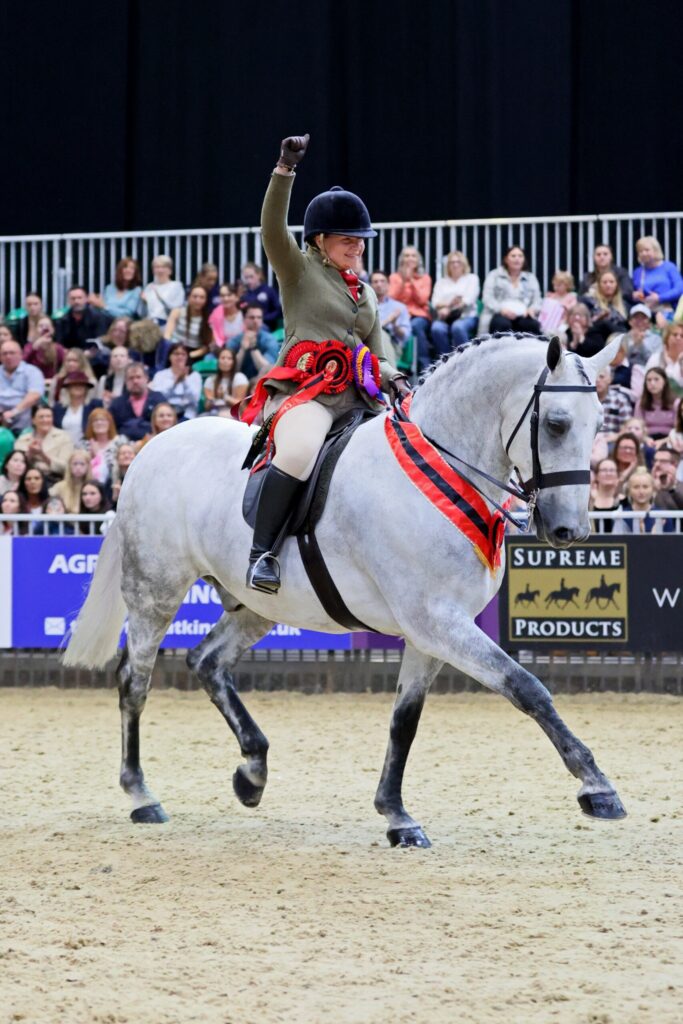 PUISSANCE PERFECTION
There was also big Irish success in the show jumping classes at HOYS. On Saturday night, Waterford-born army rider Commandant Geoff Curran and the 16-year-old Irish-bred stallion Bishops Quarter (ISH), bred by Kilkenny's Gerard Murphy and owned by the Minister For Defence, claimed another huge Puissance victory.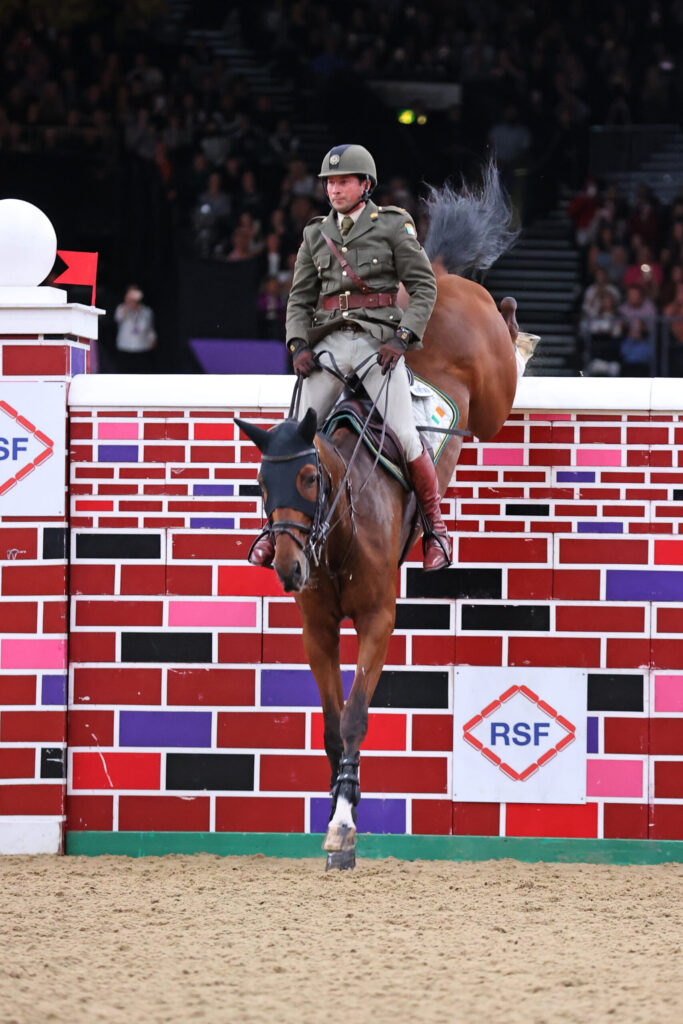 They were the only combination to clear the big red wall in all five rounds of jumping, clearing 2m20 (7ft 2) to win the HOYS Puissance for the second year running.
The result came on the back of another Puissance win for the Irish pair at the Dublin Horse Show back in August and Curran, a Board member of the Irish Horse Board, has now set his sights on the London International Horse Show Puissance in December.

"I'm delighted to come back and take the trophy home again. He's [Bishops Quarter] coming on good form, he jumped 2m25 outdoors in Dublin but I have to say it feels bigger jumping indoor than on the grass in Dublin but I'm delighted with him again.
"He has got an abundance of scope really and a perfect attitude for the job, as in he is very brave. He is a real Puissance horse now and he has won a few of them at this stage and there is plenty room for a few more wins hopefully. He doesn't really compete other than Puissance really, apart from some national competitions to prepare him fitness wise, and so if he's in good shape and in good form, we might go to London [for the London International Puissance]," Curran concluded.

HOYS SPEED HORSE OF THE YEAR
A super-fast clear round in 52.33 seconds saw Tipperary's Shane Breen and the 10-year-old gelding Scarteen (Cardento x Chellano Z ) win the Speed Horse Of The Year title on the final day at Horse Of The Year Show. Sligo's Richard Howley was also among the prizes taking fourth spot with Fame. Shane Breen was also victorious in the HOYS Six Bar aboard Cato Boy, sharing victory with Britain's John Whitaker.
Speaking after the curtain closed on an action-packed week at HOYS, Irish Horse Board Director General Alison Corbally said:
"Congratulations to all of the Irish breeders, owners and competitors who enjoyed huge success at the 2023 Horse Of The Year Show. This is always one of the highlights on the British equestrian calendar and once again Irish-bred horses made their mark with so many fantastic results."
BREEDING

Bishops Quarter (AKA Ballydunne Jim) (ISH) – 2007 stallion by OBOS Quality 004 (OLD) out of Ballydunne Beauty (ISH) by Cavalier Royale (HOLST). Breeder: Gerard Murphy, Co. Kilkenny. Owner: Minister for Defence. Rider: Geoff Curran (IRL).

SCT Master of the Hounds (ID) – 2013 gelding by Castlegar Rebel (ID) Dam: Castlegar Christina (ID) by Crannagh Hero (ID). Breeder: Tom Burke. Owner: Jemma Ellison, Rider: Georgina Kirby-Moore

MHS Morning Master (ISH) 2015 Gelding by Quidam Junior. (KWPN) Dam MHS Cavaliers Daughter (ISH) by Cavalier Royale (HOLST). Breeder Sinead Brennan.

Bloomfield Eloquence (ISH [TIH], 2014 gelding by Watermill Swatch (TB) out of Gurraun Broadway (RID) by Carrabawn View (ID). Bred by Michael Kavanagh.

Shanbally Legacy, (ISH) 2012 gelding by Pride Of Meath (ID) out of Kilthomas Lass (ISH) by Merry Mate (ID). bred by Joseph Egan.

Castle Kestrel (CP) 2015 Stallion Sire: Glencarrig Knight. Dam: Castle Melody. Breeder: Mr Henry O'Toole. Owner: Amanda Sharman

Bellevue Tomboy (ISH) (TIH) 2008 Gelding by Laughtons Flight (ISH) out of Bellevue Toy Story (ISH) by Hail Station (ISH) Breeder: Ruth Loney, Owner & Rider: Matthew Cooper

Dublin Street Fighter (ISH) 2012 gelding Sire: Camiro De Haar Z. Dam: Sarah's Pet. Owner: Mesdames Hookham & Treleaven, Rider: Matthew Ainsworth

Chantilly Sandman (ID) 2010 gelding by Gurraun Zidane (ID) Dam Cranagh Falcon (RID) by Crannagh Hero (ID). Breeder Martin Cosgrove.

Curraghgraigue Coevers Quality (ISH) 2013 gelding by OBOS Quality (OLD). Dam Curraghgraigue Coevers Z (ISH) out of Coevers Diamond Boy (ISH). Breeder Baden Powell, Co Tipperary.