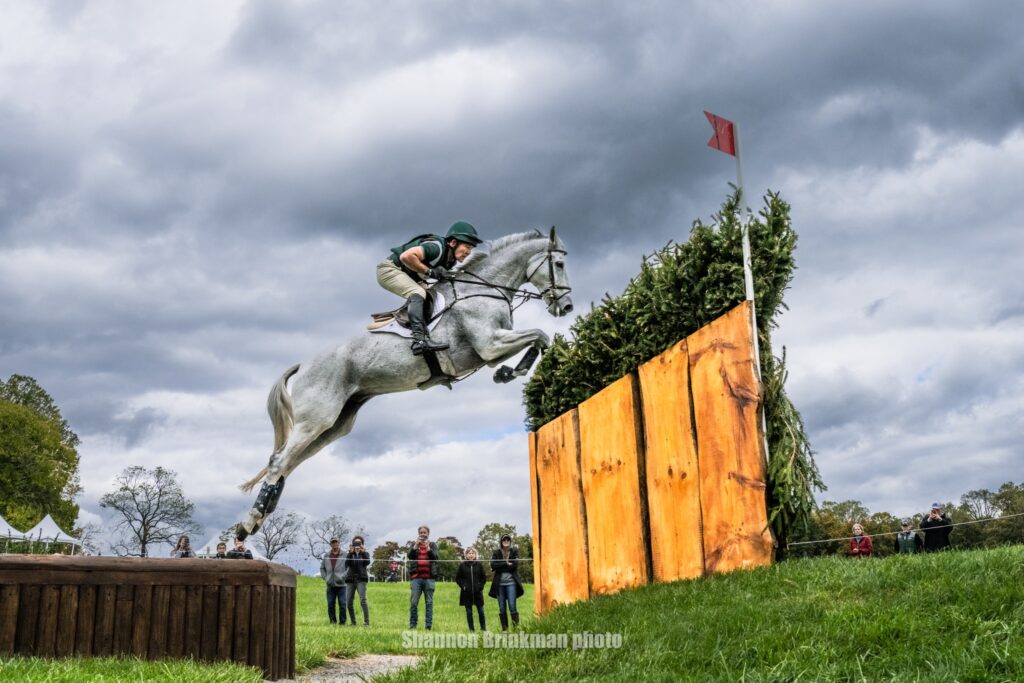 Photo: Austin O'Connor and Colorado Blue (Photo: Shannon Brinkman/Mars Maryland)
An outstanding performance from Irish Eventing rider Austin O'Connor and the Kate Jarvey-bred Colorado Blue, saw them crowned champions this evening (Sunday) at the prestigious Maryland five-star Event at Fairhill in the USA.
O'Connor has become the first Irish Eventing rider in 58 years to win a five-star Eventing competition, following in the footsteps of Major Eddie Boylan and Durlas Eile who won the five-star Badminton Horse Trials in 1965.
Tokyo Olympian O'Connor and Colorado Blue were in 12th place after the opening Dressage phase on Friday and climbed eight places to fourth after a brilliant Cross Country performance on Saturday where they added just 1.2 time penalties.
A brilliant clear final Show Jumping round on Sunday – which was the only clear inside the time of the competition, saw them climb from overnight fourth place to take a massive victory on a final score of 34.9.
Maryland is one of just seven of the five-star "majors" in the world of Eventing, and speaking afterwards, an emotional Austin O'Connor revealed that a five-star win was something he thought he might never achieve:

"People like me – we're not supposed to win five-stars, but it's just happened, I think. It's the end result of a lifetime's work really. Ultimately it's all about the horse – he is unbelievable, he's been a champion for years and privately I was prepared to give him to somebody better because thought he deserved to win a five-star and I didn't think I could win one with him, but here we are."
The Irish bred Cooley Rosalent (ISH) bred by J.W Rosbotham, claimed third place with Oliver Townend (GBR), while another Irish-bred, Greenacres Special Cavalier (ISH), bred by Michael Callery, finished sixth with Caroline Powell (NZL).
Irish Horse Board Director general Alison Corbally said:
"What an amazing achievement for Austin O'Connor and Salty [Colorado Blue]- it is so well deserved for them both and breeder Kate Jarvey from Mellon Stud in Limerick. A five-star win is the pinnacle for any Eventing rider and Austin has bridged a 58-year-gap to join an elite group of Irish five-star winning Eventing riders. Congratulations also to J.W Rosbotham, breeder of the third place finisher Cooley Rosalent (ISH) and Michael Callery, the breeder of Greenacres Special Cavalier (ISH) who finished sixth."
BREEDING
Colorado Blue (SHBGB) 2009 gelding by Jaguar Mail (SF) out of Rock Me Baby (AES), by Rock King (WNTR). Breeder: Mellon Stud / Kate Jarvey, Limerick. Owners: Austin O'Connor & The Salty Syndicate. Rider: Austin O'Connor (IRL).
Cooley Rosalent (ISH) – 2014 mare by Valent (KWPN) out of Bellaney Jewel (TB), by Roselier (TB). Breeder: J.W Rosbotham, Down. Owner: Paul W Ridgeon. Rider: Oliver Townend (GBR)
Greenacres Special Cavalier (ISH) – 2013 mare by Cavalier Royale (HOLST) out of Greenacres Touch (ISH) by Touchdown (ISH). Breeder: Michael Callery (Meath). Rider: Caroline Powell (NZL)