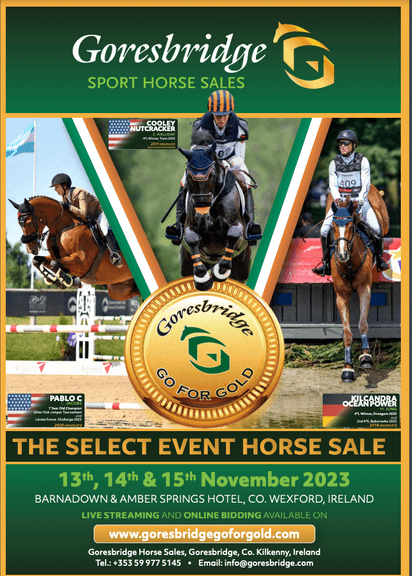 The ever-popular Goresbridge Go For Gold 2023 performance sale takes place this coming week November 13th – 15th, with almost 100 top Eventing prospects on offer from three to five-years-old.
Since it was first held in 2010, Go For Gold graduates have been making their presence felt worldwide including the five-star performers Cooley Rorkes Drift, Gorsehill Pearl, Grantstown Jackson, MBF Connection and November Night, to name a few. As recently as last weekend, Go For Gold graduate Cooley Nutcracker (Liz Halliday) won the CCI4-L and American Championship at Galway Downs in the USA, and youngster and fellow graduate Cooley Corraghy Diamond with Kim Severson won the CCI2* at the Virginia Horse Centre.
Held at the Barnadown Showgrounds, Gorey Co. Wexford and the nearby Ambersprings Hotel, this years Go For Gold sale will run over three days with the older horses completing their performance on day one (Monday 13th November). Day two (Tuesday Nov 14th) is dedicated to the 3-year-old section and all 3-year-olds will be showcased in the main sand arena in Barnadown. On Day three (Wednesday 15th), all lots will be open for viewing in the morning ahead of the auction which commences at 1pm sharp at the Amber Springs Hotel.
For those that cannot attend the Goresbridge Go For Gold sale in person, the auction will be livestreamed with a live online bidding facility and the performance element will also be fully livestreamed on both days.
Anyone who wishes to try a horse can do so throughout the duration of the performance days or on the morning of the auction by contacting the Go For Gold team directly on +353 87 2569496.
You can view all of the Go For Gold lots on offer on the Irish Horse Board website. Full details on the Goresbridge Go For Gold Sale available on the Go For Gold website.