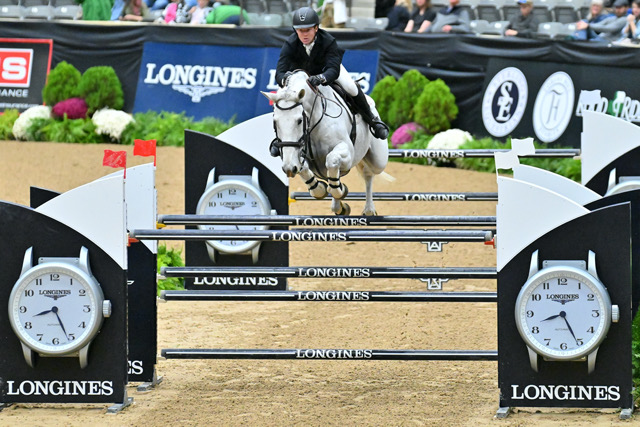 Cork's Shane Sweetnam and the Irish-bred gelding James Kann Cruz (ISH) have added to their reputation as one of the top combinations in world Show Jumping, by taking victory in last night's (Saturday) Longines FEI Jumping World Cup Grand Prix at Lexington, Kentucky in the USA.
It was a first ever World Cup win for Sweetnam and came after an 11-horse jump-off where James Kann Cruz (ISH), bred in Co Galway by Patrick Connolly, was in sensational form – crossing the line clear in 33.41 seconds to take the top prize of $74,580.
Defending champion Daniel Bluman (ISR) finished second with Gemma W, marking Bluman's third consecutive year on the podium in the National Horse Show's feature class. Devin Ryan (USA) finished third with Eddie Blue, after the pair held the same position a week ago in Washington (USA). Galway's Andrew Bourns also made it into the jump-off with another Irish-bred – Sea Topblue (ISH), with two fences down against the clock leaving them in 10th place at the finish.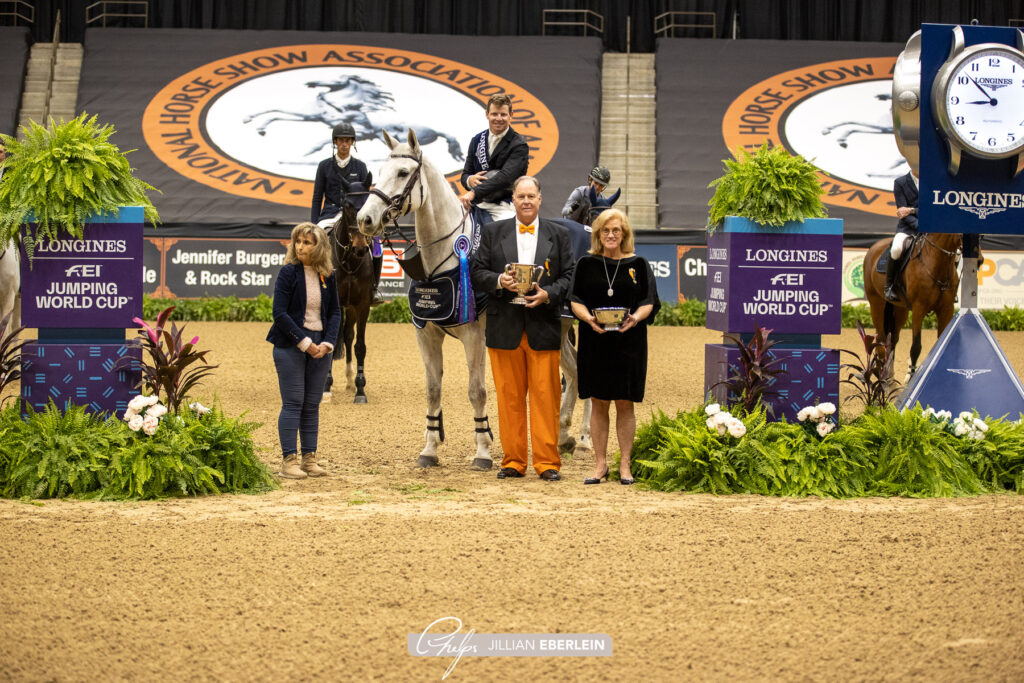 The win for Sweetnam was made all the sweeter as he has spent much of his time living in Lexington (USA), directly adjacent to the Kentucky Horse Park, since moving from Ireland to the United States.
"To win this class is a big deal. For me, it was always one of the ones I wanted to win." he said afterwards.
Sweetnam caught plenty of air in the first round, as James Kann Cruz (ISH) showed off his brilliant power and scope. In the jump-off, that could have cost valuable time on the clock, but it also allowed Sweetnam to take more risks in his track. The pair returned fourth in an 11-horse jump-off and set themselves apart with a pair of left-out strides and a bold turn back to the combination towards the end of the course. When James Kann Cruz slipped, it left the horse not even a stride to judge the fence. Still, he cleared it with ease.
"I felt that there were a lot of fast riders, good riders behind me. Honestly, when I came out of the ring, I was thinking I still might not have done enough," Sweetnam said. "I definitely wasn't sure I had the win, but I really did as much as I could in the ring.
"We slipped a little bit going into the double, and [James Kann Cruz] had to show how amazing he was. That wasn't planned, but it just shows how talented he is."
Irish Horse Board Director General Alison Corbally said:
"Congratulations to Shane Sweetnam and the Connolly family from Co Galway, breeders of CSF James Kann Cruz (ISH) on another outstanding win. A World Cup victory is always a huge achievement and for an Irish rider on an Irish-bred horse to win a World Cup is extra special."
James Kann Cruz (ISH) has always had the makings of a championship mount, and he contributed to a silver medal-winning effort for Ireland at the 2023 European Championships (ITA). Navigating jump-offs at speed has been the next part of the gelding's development.
"Practice makes perfect. I'd say if you watch my rounds now compared to what they were this time last year, the jump-offs are a lot faster," Sweetnam said. "Yes, he does spend a lot of time in the air, but obviously, that's a help. He's a very smart horse. The more he does it, the smarter he gets…He's looking for the next jump, which he hadn't really this time last year. It's still a work in progress.
"I still think there's more room there for us to go to another level," he added.
Sweetnam walked the course with his son Collin, and his wife Ali and daughters Olivia and Lucy were in attendance at the event. All are involved in the sport as athletes or coaches.
"All of us are very keen," Sweetnam said. "It's great to have that, because we have that together. When there's success or when there's ups and downs, we're there together, and we learn from them, and we keep moving forward."
Ryan's consistency moved him to the top of the NAL standings with 30 points, while Sweetnam slotted into second with 28 points. Alise Oken (USA) sits third with 25 points.
The North American World Cup league continues in Toronto (CAN) on 11 November 2023.
BREEDING
James Kann Cruz (ISH) – 2013 gelding by Kannan out of CSF Telly Cruz by Cruising, bred by Patrick Connolly owned by Gizmo partners LLC. Ridden by Shane Sweetnam.
Sea Topblue (ISH) – 2011 gelding by Chacco Blue (MECKL) out of Sea Top Lady (ISH) by Lux Z (HANN). Breeders: James & John Meade, Co. Clare. Owner: QBS Equestrian & Andrew Bourns. Rider: Andrew Bourns (IRL).